10 Romantic Camping Destinations
When you're ready for a little romance, what's better than discovering a brand new, romantic, camping destination? Don't believe us? Check out these 10 Romantic Camping Destinations below!
1. Wai'anapanapa, Hawaii
Located on the eastern coast of the island of Maui, Wai'anapanapa State Park is an experience that needs more than an afternoon. Dark volcanic sandy beaches, seabird colonies, freshwater caves, and beautiful foliage, this is Hawaii you want to see! Parking is limited and you'll need a permit, but the campsite is located on a grassy area overlooking the beach. You'll fall asleep to the fresh ocean air and the sounds of crashing ocean waves. When it comes to romantic camping destinations, what could be better?!
2. Crater Lake National Park, Oregon
Breathtaking views surround the dark blue of the famously deep lake, this 180,000-acre national park is a treasure to behold! With so many romantic hikes to choose from (at all levels of difficulty), the beautiful scenery makes Crater Lake one of the most romantic honeymoon destinations. Plenty of outdoor fun activities include biking, swimming, canoeing, guided boat tours, and more. The elevation of the lake is over 6000 feet above sea level, so if you treat yourself to a hike up Watchman Peak, the thin air can be tough to adjust to. But it's a great reason to take your time and enjoy the incredible views and scenery!
3. Hearthstone Point, Lake George, NY
Upstate New York has endless natural treasures and one of the high points to anyone seeking a camping adventure in the northeast is Lake George. Hearthstone Point Campground offers boating, canoeing, hiking, mountain climbing, and more. Take an afternoon to parasail over the lake, then enjoy a dinner sunset cruise! There's a winery tasting room nearby with a view of the lake. All of this plus many opportunities for shopping, theme parks, theaters, and historic sites. Something for everyone!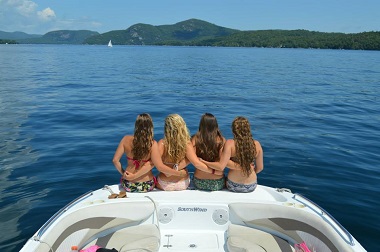 4. Bahia Honda State Park Big Pine Key, Florida
A beach haven surrounded by a natural sanctuary, this state park is situated way out in the Florida keys. Featuring three full-facility camping areas, it's a snorkeler's dream. With 150 species of flora and given that it's also a birder's paradise, it's a perfect getaway for beach and nature lovers alike.
5. Huntington Island State Park, South Carolina
Located just 15 miles from historic Beauford, this barrier island state park offers pure sandy beaches, forests, thousands of acres of marshland, and even a saltwater lagoon with a romantic lighthouse! Enjoy beautiful sunrises from your campsite, comb the beach for unique shells and shark teeth, and keep an eye out for loggerhead sea turtles! Take a day trip inland to Congaree National Park, home of 'champion trees', or relax in the evening with South Carolina's official drink of hospitality, sweet tea!
6. Jenny Lake, Grand Teton National Park, Wyoming
Carved out by glaciers, Jenny Lake sits at the foot of some of the most picturesque mountains in the world. Sitting at your campsite or walking along a hiking trail, the Grand Tetons look close enough to touch. And when the early morning sunlight hits, they absolutely radiate – you won't be able to take your eyes off them! Though you'll feel out in the middle of 'nowhere', Grand Teton National Park borders the southwestern side of Yellowstone National Park and is less than a two-hour drive to the famous Old Faithful geyser! So whether you sit at your site all day, taking in the view, or get out and explore, you're guaranteed a trip to remember.
7. Yosemite National Park, California
With waterfalls, granite monoliths, and deep valleys, Yosemite National Park has a unique magic. Such majesty is best shared with someone special. Drive along Tioga Road and stop to hike Olmstead Point, only a .2 mile trek to a stunning lookout over the valley nearly 4000 feet below. And, if you're lucky to catch the right conditions, around the second week of February the sun will hit Horsetail Fall illuminating it as if it were on fire. There are several camping options under Sentinel Dome, El Capitan and Yosemite Falls and the park offers arguably one of the widest range of hiking difficulties you'll find anywhere. There's something for everyone, and with only a few exceptions, you can camp anywhere you like!
8. Hermit Island Campground, Phippsburg, Maine
Started in 1952, this quiet getaway spot has remained largely unchanged for decades. Walk the intimate, sandy trails (one follows an old wagon route!) to explore Dune and West Dune beaches, or explore the tide pools along the rocky coast. This quaint campground features a small grocery store, gift shop, marina, and a pool hall.  Only campers are allowed in the campground, so it guarantees a quiet stay. And hey! Free hot showers!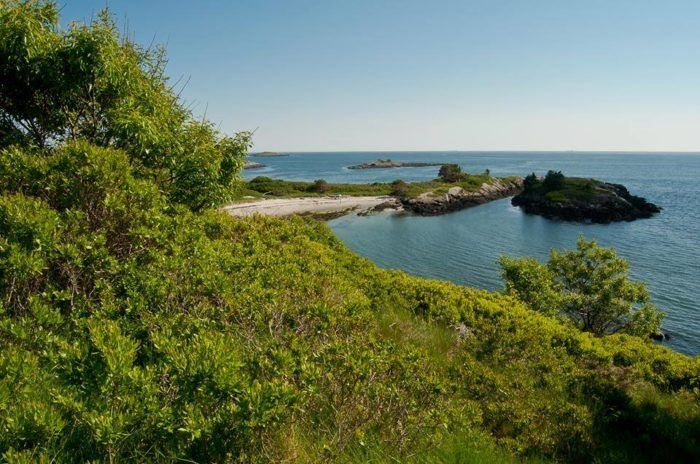 9. Misty Mountain Camp Resort, Greenwood, VA  
The perfect combination for an unforgettable romantic campground. Walk the trails or enjoy a hike up into the Blue Ridge Mountains to incredible views. Runners, hikers, cyclists, birdwatchers, and lovers of history can soak in all that this beautiful area has to offer. Tour the Blue Mountain Brewery, or for adventure seekers, the nearby Grand Caverns, a National Natural Landmark are the oldest continually operating show caves in the United States.
10. Tahquamenon Falls State Park, Paradise, Michigan
Most of this 50,000-acre state park is undeveloped land and features one of the largest waterfalls east of the Mississippi. While the Upper Falls has a maximum flow of nearly 50,000 gallons of water per second, the Lower Falls consists of five smaller falls which cascade around an island. The bottom is reachable by rowboat – how romantic! Whether snowshoeing in the winter, foliage viewing in the fall, or taking advantage of the warmth of summer, this upper peninsula paradise is perfect for a slower-paced retreat.
Do you have a favorite romantic camping destination that we've left out? Tell us about it in the comments below!