Stout Tent Stories Featuring Cause We Can Events
Finding companies that use Stout Tent to provide people with lifelong memories is a very rewarding part of our business. We took a moment to talk with Gabrielle Pinkerton, CEO and founder of Cause We Can Events. She shared with us some of the things that make her company unique, and some of the services they can provide – like topnotch glamping weddings! Check it out below.

More Than Just Glamping Weddings
Cause We Can Events is driven to create out-of-the-box, non-traditional experiences that will bring your wildest dreams to life. More than just a wedding planning company, this all-women team focuses on the total experience, not just the pretty details.. They proudly state: "Do you want to recreate Burning Man in the middle of the playa with your friends and family? We'll do it. You want to say your vows on the coast of Croatia and have an epic party in a local pub after for your reception? We've done it! Hike to the top of a mountain in Scotland in the rain? Yes! We'll be there with you to make your dream come true… 'CAUSE WE CAN!"
Born in Montreal, Canada where she grew up surrounded by nature, founder and CEO Gabrielle Pinkerton has never been one to shy away from adventure. Loving the peace she found outdoors, she has always been the first person to jump in and get her hands dirty. After moving to California in 2010, she orchestrated several yoga retreats and gala dinner events, but kept feeling herself drawn to sharing her love of the outdoors with others. "I wanted to offer couples a wedding experience that matched their personality and adventurous lifestyle," says Gabrielle. "Not everyone wants a ballroom wedding. We knew there was a need for people who wanted to be outdoors for a whole weekend with their loved ones to celebrate their wedding." Following her passion and drawing off her planning experience, in 2012 she created a company catering to the extraordinary. Cause We Can Events was born!
Memorable Experiences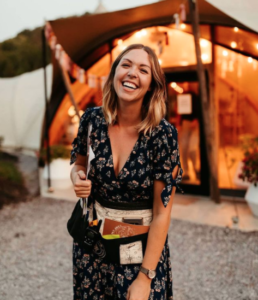 With offices now in Los Angeles, Nashville, and Portland, ME, Gabby and her team produce events all over the US, Canada, Europe and South Africa. She says their "ideal" couples should be adventurous and willing to get their hands (and dresses!) dirty. Couples should be obsessed with fun, open and willing to try new things, and eager to create a memorable experience – but not too stuck on the details!  "We think outside the box and sometimes our crazy ideas are exactly what couples want. We focus on the experience as a whole and understand that our couples want their guests to feel important, so we put ourselves in guests' shoes and create the wedding weekend around that feeling."
From what we've seen, her customers couldn't be happier. "Cause We Can Events coordinated my wedding in Austin, Quebec and it was the best decision we could have made!" says Jodi from Montreal, Canada. "From the dress rehearsal run-through and last minute preparations, to the day of coordination, Jessica (Lead Planner) nailed it all!"
Chloe from Manhattan Beach, California raves, "We planned a three-day music festival style, glamping wedding out in the middle of the desert in Moab, Utah. We had three bands, two DJs, a coffee truck, a breakfast burrito truck, catering for three full dinners, a silent disco, laser tag, national park adventures, two yoga classes, a snack tent, and, of course, multiple photo shoots throughout the weekend. We definitely put Gabby through the ringer with our over the top ideas and she handled it all like a champ… Hire her!"
Though they also offer their services for elopements and micro weddings, Gabrielle and Cause We Can Events specialize in weekend-long festival style celebrations. "We try to make that our focus and not take on too many weddings outside of this style because these are truly what we're great at."

Glamping Weddings with Stout Tent
Glamping is, of course, a large part of many outdoor wedding experiences and Stout Tent is proud to assist Cause We Can Events to provide the perfect setting for each of their customer's needs and desires. "Our couples and their guests absolutely love glamping weddings and so do we!" enthuses Gabrielle. "We really enjoy the fact that we can have these luxurious accommodations in the middle of nowhere! We actually worked with Stout on a wedding in the middle of the playa in Nevada and it was incredible!"
Cause We Can Events has a growing presence online with thousands of followers on Facebook and Instagram.  Their website is full of ideas, videos, pictures and more, inviting you to explore your dream wedding event perfectly designed for you. Their blog page features resources and articles to deepen an experience you'll treasure for years to come. Most recently, Gabby launched a Pinterest Masterclass to help fellow wedding professionals grow their wedding businesses.
Cause We Can Events celebrates all religions, races, sexual orientations, gender identities, abilities, and ethnicities. From the couples we serve to the teams we build, they are committed to making room for everyone at the table. If you're interested in learning more, hit them up at hello@causewecanevents.com.