The Durango recently played a crucial part in the Ultimate Aerial Performance Camp – an industry gathering of some of the world's best extreme sports athletes and aerial performers.
Mark, a friend of Stout Tent and elite aerial performer, and his team embarked on their most ambitious endeavor yet to assemble the most powerful human fleet on earth for the largest and most productive Global Aerial Performance Camp to date. Over 1100 skydiving and wingsuit jumps, more than 100 paraglide tows, 6 tunnel freefall hours, 15 D-Bag jumps, 30 paramotor flights, five hang gliding tows, and a few Cub rides with Kirby. All of this is under the vast canvas of the sky, with the desert as their backdrop. The entire crew from the 2023 Red Bull Aerial Camp in Eloy, Arizona, on February 26, 2023.
Mark acknowledges that the success of this monumental week was made possible by the engagement and professionalism of his entire team.
Here's how the Durango played a pivotal role:
The Durango's adaptability was a game-changer. It provided a fairy tale base camp, offering shelter and a focal point for coordination, planning, and celebration.
Weather Warriors: The unpredictability of the desert didn't faze the Durango. Waterproof and fire-retardant, it stood strong against the elements, ensuring the safety and comfort of the athletes.
Space to Dream: With individual athlete support in mind, the Durango provided a space for the athletes to recharge, plan, and prepare for their next breathtaking performance.
Efficiency in Operations: Aerial ops efficiency was maximized with the Durango's design. Quick to set up and take down, it allowed the team to focus on what they do best – fly.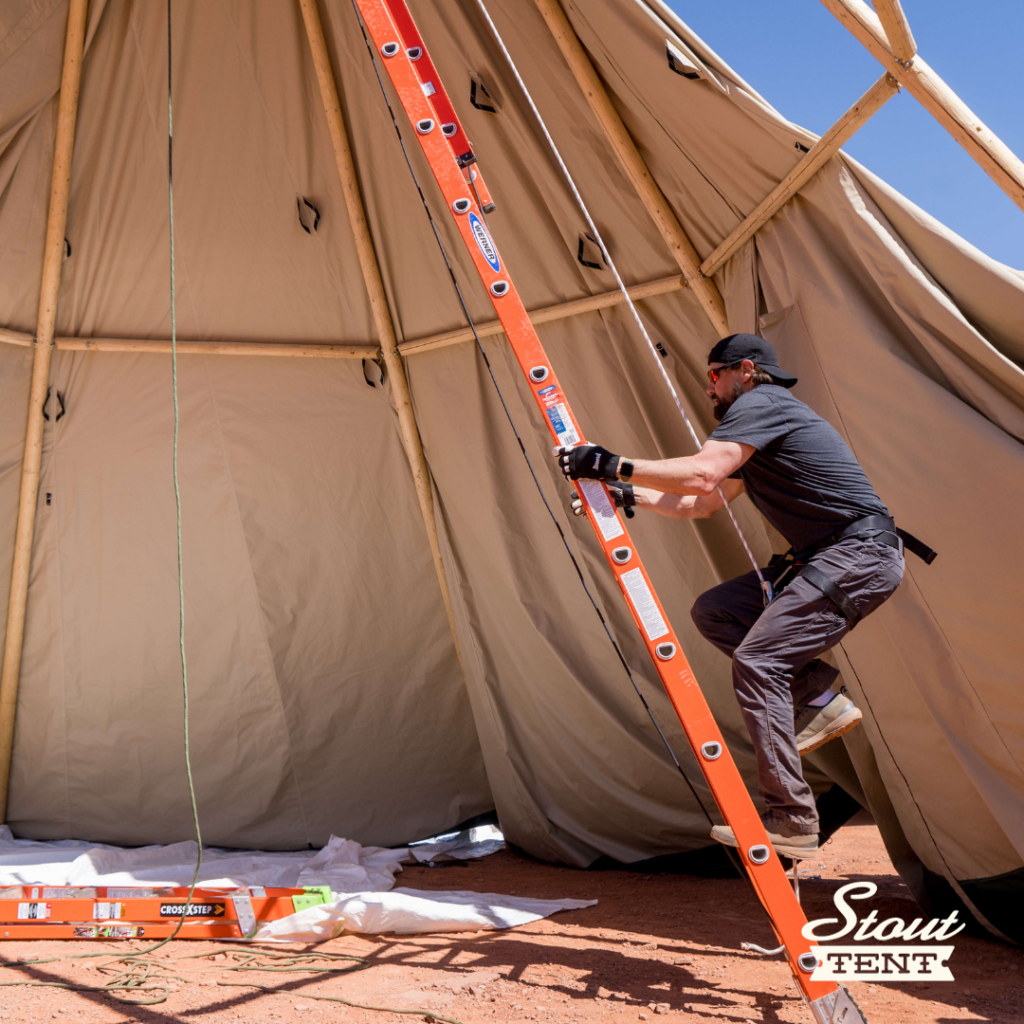 Aesthetic Excellence: Beyond functionality, the Durango added a touch of visual poetry to the desert landscape, creating an atmosphere that matched the awe-inspiring feats taking place in the skies.
The Impact: Shaping the Future of Aerial Excellence.
Mark emphasized that the efforts put into this week will have a lasting impact, keeping athletes safe, active, and at the forefront of their fields. The Durango, as an integral part of the operation, contributed to the success of this event and, in turn, to the realization of the most desired human dream – FLYING.
In Conclusion: A Sky Full of Gratitude.
Mark concludes his testimonial with a heartfelt thank you, not just for making the week happen, but for contributing to the continuous progress of the most desired human dream—flying.
At Stout Tent, we're honored to be a part of such remarkable journeys. To Mark and all the daredevils out there, keep dreaming, keep flying, and let the Durango be your canvas for unforgettable adventures.
Until the next adventure takes flight!