What Kind of Floor You Should Use In Your Bell Tent
Using a tent is an essential piece to your glamping adventure. We've had SO many customers send us their solutions for rugs (thank you!), and I have to share a few of those that might be interesting to everyone.
We're proud of our PVC groundsheets, which come zipped into your bell tent. They are tan, rubbery, soft, and have a nice matte finish on the bottom, which gives it a clean and professional look. This flooring alone will suffice and you can put all your beds and furniture right on top of it, Keep reading to learn how you can dress it up even more!

Amy sent this suggestion in, and while we haven't tried them personally, she loves hers. It looks like at 7×8′ each,  you could fit two inside of a 5M tent, one on either side of the tent pole. They are super lightweight, at 7lbs each, which is awesome for packing and loading in and out of your campsite. They are made in the USA, which we love! It looks like for color they only offer gray, but for an affordable (~$70 each) waterproof and insulating floor option, we like it.
John H. has been using these. He likes the insulating factor these interlocking mats offer. You'll need 3 sets (each set comes with 18) to cover a 5M tent, and they do take up a decent amount of room in your vehicle, but might be nice for a longer-term option.
Traditional Rug

Other
Ken K. sent us his creation – he used his plasma cutter to build a floor – he will be sending us some finalized pics, but they are certainly the nicest way to go.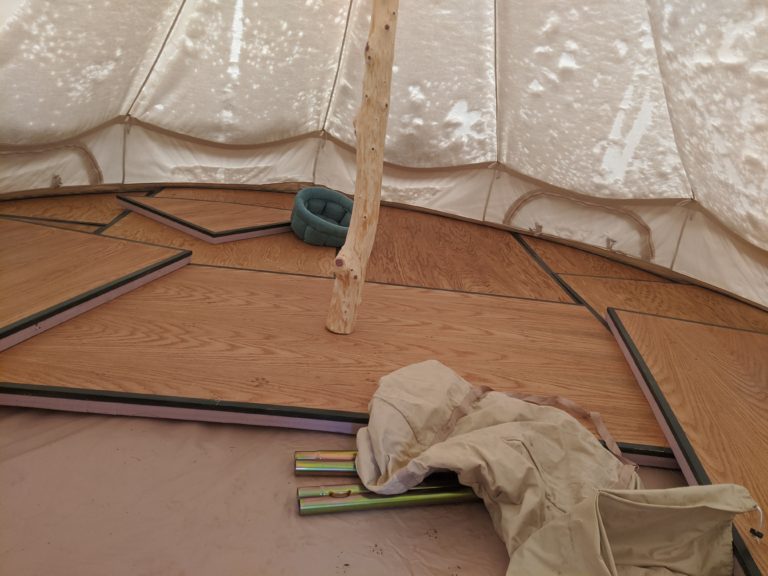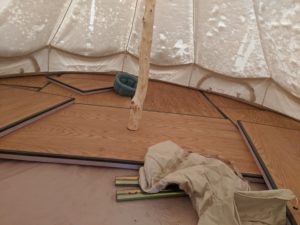 How to Place Your Rug In Your Tent
Rug Placement – When putting a rug across the middle of the tent, so that it crosses the pole – you'll need to put the rug in AFTER you staked the groundsheet, but BEFORE you stake the guy-lines. Lift the center pole before the guylines are tight and then slide the rug under the pole. After the rug is placed where you want it, set the pole on top of it and continue with the tent setup (staking and tightening the guy-lines).