The Ultimate Gift List for the Mountain Biking Dad
Obviously Jim (Stout) loves camping, (hello family tent business) but you might not know he's also an avid mountain biker. I sent the kids to pick his brain on the best gifts for mountain bikers and they came back with this! Here's 11 gift ideas for the mountain biker, outdoor lover in your life.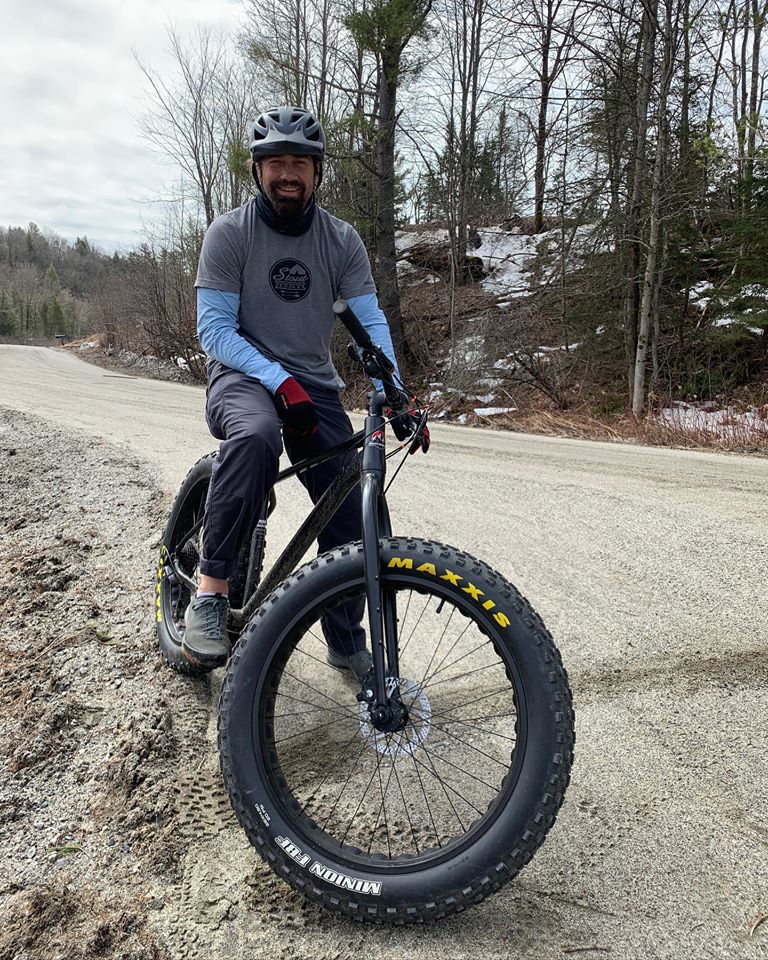 The tire lever, though seemingly one of the simplest and most basic of cycling tools, is one commonly used by almost every cyclist, and unfortunately, one often responsible for unnecessary frustration. Pedro's award winning, universally loved tire levers feature molded box construction and a proprietary plastic composite blend that makes them the strongest levers available. As long as your riding buddies don't steal them from you, we are confident the Pedro's Tire Levers will be the last levers you buy. Do yourself a favor and give them a try. You will love them!

The MTC-40 features a super strong, composite, multi-position handle, with hardened and plated tools and smooth ergonomic operation. Lightweight, compact, and perfect to carry along.
2.5, 3, 4, 5, 6 and 8mm hex wrenches
T25 & T30 Torx® compatible driver
Combo cross/straight tip screwdriver
5- to 12-speed compatible chain tool*
Rotor straightener
CO2 cartridge inflator adaptor
Bottle opener
Key ring holder

One of Jim's favorites! The Defend Long Sleeve Fox Head Jersey tackles the toughest trails with strategically placed abrasion-resistant zones that protect you and the garment from trail-related wear and tear.

Nobody really wants to carry a water bottle while they're biking. An updated classic, designed for max stability on technical terrain. The M.U.L.E.® bike pack combines 12 liters total storage with a 3-liter Crux™ reservoir with Quicklink™. The Air Director™ back panel and ventilated harness keep you cool and comfortable. Partially made with post-consumer recycled materials.

Not your typical pump! Easily install tubeless tires with the Topeak JoeBlow Booster floor pump. An integrated aluminum air chamber stores a 1-liter air charge up to 160 psi to quickly fill tires for an effective rim seal. Once the tire is mounted, you can turn the selector from "charge" to "inflate" mode to pump air directly into your tire and fine tune pressure as with a standard pump. No more frustrating leaks because you can't pump up your tire fast enough to get an effective rim seal. SmartHead fits Presta and Schrader valves.

Nothing affects ride comfort more directly than tire pressure. TyreWiz provides users with tire pressure alerts with the SRAM AXS app. TyreWiz reports data with +/-2% accuracy at a resolution of .1 PSI; vastly more accurate than any tire pump on the market. TyreWiz monitors air pressure in real-time and relays the data to a cycling computer or a smartphone. That information is relayed to the SRAM AXS app and delivers personalized recommendations and pressure alerts.TyreWiz gives riders access to highly accurate real-time tire pressure data to make decisions that can affect rolling resistance, traction, tire wear, and rider comfort.

An evolution of our award winning Forefront helmet, the completely redesigned Forefront 2 is a full coverage helmet ideal for all-mountain riders who demand superior protection, ventilation and eyewear integration. For added protection, Koroyd® has been extended into the back of the helmet to now fully encompass the helmet. Internal air channels are combined with open intake and exhaust ports to maximize ventilation, while AirEvac™ channels promote airflow to prevent fogging of your eyewear. The Forefront 2 also features channels on the front and rear of the helmet for eyewear storage, and a three-position visor that rotates high to allow for goggle storage.

Overkill? Maybe, but we promise you'll like it. This rack is robust and the only solid 2" single model in the cycling industry. With a 3/8" x 13" x 1" added support bar under the tray, the Super-Duty versions are rated for 75 lb. per bike spot. This rack is for the cyclist looking for none other than a 2" unit. If you can spare 10 seconds, that's all you'll need. The 1UP USA units are the fastest hitch-mounting and bike-loading racks ever! 100% made in the USA, all our racks come fully assembled and ready to be "hitched"!

Jim often took this bike out on the Arizona trails, but depending on setup and skill level, the Chameleon is capable on a wide range of terrain—aggressive trail riding to jump lines to all-around use. Going for maximum speed and rollability? Go 29er. Riding mostly loose terrain? Get some Plus tires that provide traction for days.
Definitely one of the most fun bikes to take out, this remains a favorite. Plus who couldn't love a bike with this description:
The rebel yell of the middle child
Fed a steady diet of super-tech climbs
The SB130 was built to crush the biggest terrain
No trail 'too' anything
Point it up or down
Enter a last-minute enduro just for the eff of it
We say no one bike can rule all, but the SB130? One bike that rules

Geared towards long-term use, this is truly a four-season tent, with 10.6 oz./340gsm canvas, 2.4 oz./81gsm bug-netting, a ripstop groundsheet, and heavy duty rebar stakes. Best suited for those who need a more permanent pitch or for those who just want the best of the best, the PRO Series does everything the ULTIMATE does, but even better.