How I Failed My First Glamping Gig
The Beginning of an Opportunity
In the early days of Stout Tent, we were renting tents as a way for people to "try before you buy". Back then not many people had actually seen bell tents in person! The response was tremendous and it became clear that bell tents were going to be a big hit… and fast! We began planning a shift in our manufacturing in order to maintain a higher stock and were excited when a Chinese factory contacted us. They were anxious to have our business and we went ahead with ordering forty tents at a great price! Things were rolling!
Then came the day I'll never forget.  The twins were napping and I was processing rentals. An email popped up with a request from someone who wanted to rent thirty-seven tents for an out of state YPO event at a zoo. I'd never before rented two tents, let alone thirty-seven! The customer was looking for a complete installation, breakdown, and furnishings.
I didn't know where to start, but I felt I had to do it. We barely had enough inventory, and we didn't have the interior furnishings they requested, but I had always heard that diversification was a good business practice, and I was willing to do whatever it would take to seize an opportunity to grow.
We spent every dime we had (and then some!) to be able to put on this even, knowing that we wouldn't make a profit. Our hope was to book another thirty tent event to make our money back, therefore setting the path toward growing our business. We bought mattresses, pillows, and comforters and got ready to also go into the glamping furnishings rental business! We diligently made a timeline and hired our friends and family to help us with this first, very important setup. We had a crew of eight to ten people, and set out in three 26' box trucks on what we planned to be a two-day drive.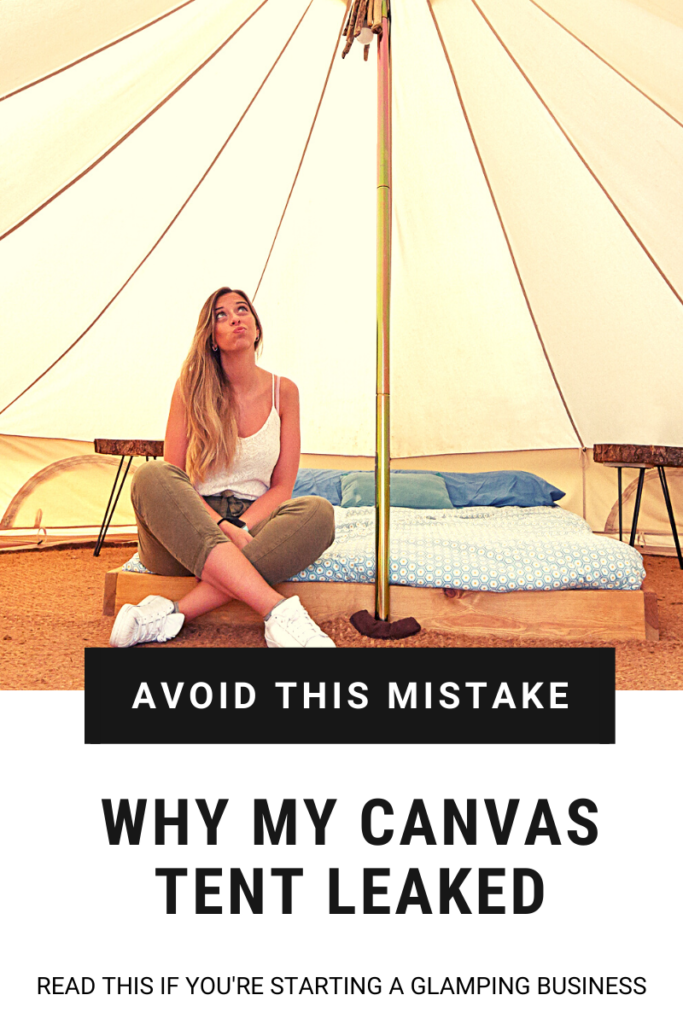 The Unexpected
The DAY BEFORE we were to head out on our trek, we received a called from a customer who had rented one of our brand new tents. We had recently purchased forty, and three were out as rentals. The tent was leaking. We had never had this problem before from any of our customers, so we chalked it up to user-error, assuming the tent wasn't set up correctly (bell tents can leak if not set up properly). We offered a refund and put it aside in our minds. Later that evening, we got another call from a client reporting a leaking tent, only this customer said it hadn't rained! I was shocked… we hadn't ever heard of that before. We pulled a new tent out of storage and set it up on our lawn. We sprayed it for a while with the hose, but it stayed dry inside. Did this mean TWO fluke rentals at the same time?
Then the third call came in. This customer was requesting that we pay for the dry cleaning of the rug she had inside the tent because of "some sort of liquid" dripping from the canvas. My stomach dropped. It was obvious now that this wasn't user-error. We ran back out to the tent still set up in the yard and rubbed down the walls, finding nothing out of sorts. We called my dad, an HVAC guy, and he noted that each of the rentals was in a high humidity area. Could the problem be triggered by humidity? That's a very difficult thing to test where we were in Phoenix, Arizona. We googled it and then worked with a few textile experts to recreate a humid condition for the tent, and sure enough, when the canvas hit DEW POINT, a strange oily liquid leached out. I was devastated. We were about to leave for our zoo setup… which was located in a humidity zone.
How could we use these tents? It was our first event and we had poured all our money into it. The event was expected to house almost 70 people for the night!? Could we pull it off? What if they hit dew point during the event? Could we be lucky enough to have a dry night? I'm a pretty resourceful person, but this? I was at a loss on how to fix it and there just wasn't time. I called my friend, Stephanie, and she said simply, "you have to tell them the truth."  I took a deep breath and called the client to explain. I was so embarrassed, but it was important that they knew we were having a major problem with our inventory. 
There was no time to get more bell tents, as glamping was so new back then, and no other companies would help us out. We were desperate and offered to bring standard camping tents to use instead. Even though they wouldn't be the glamorous bell tents, the interiors would still offer everything they hoped for, and they could still hold the event 'as planned'. The client asked us to try to set up the bell tents one night earlier to test them. If nothing happened, we would proceed with the canvas tents. But if they leaked, we'd switch to the backup tents I had promised. There was a sliver of hope. 
We were scheduled to leave first thing the next morning, so I reached out to our crew of friends and family and asked them to drive around to all of the outdoor shops in the area and help me buy all the standard camping tents we would need just in case. We got as many as we could find and planned to continue purchasing tents along our twelve hour drive. Then I threw up.
The Inevitable
When morning arrived, the crew met for a meeting and a bagel breakfast in my kitchen. Despite everything, we were all fired up and ready to go. We now had to drive straight through without stopping and the twelve hour drive turned into sixteen. We arrived at 10:00 pm, still stoked and full of energy, got all thirty-even bell tents up, and then fell asleep DURING our pizza dinner. At 4:00 am, someone woke up and said, "it's happening…"
We were devastated. I texted the client and she came to take a look. She agreed to use the backup tents and, on just a few hours of sleep, we took down the bell tents and restarted the entire setup. I won't sugarcoat it, it was pretty soul breaking.
As soon as the event was over we reached out to the Chinese factory, thinking they would fix the problem, replace the tents, and refund our money. They had been so excited to do business with us and wanted the long-term business… right? Wrong. They did nothing. No refund. No replacements. No apology. Our tents were ruined and unsalvageable. Our HUGE investment was gone and we refunded our first ever major client for an event we were already not going to make money on.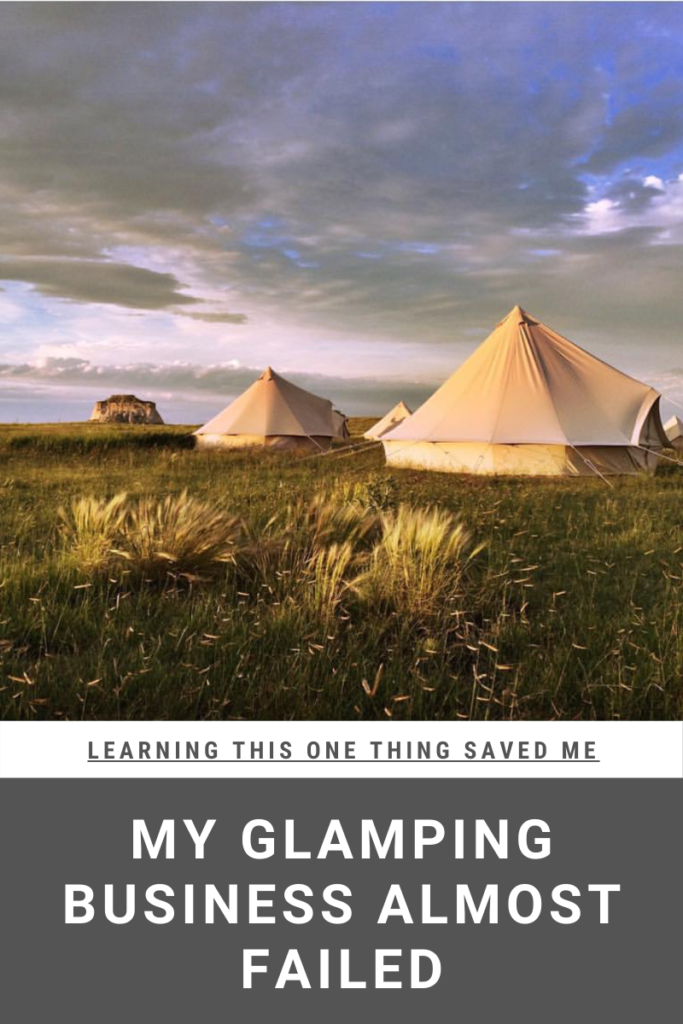 Learning From Experience
After our first event was a complete glamping fail I had a choice to make. Give up and call it a loss – OR – learn from experience. Honestly giving up would have been completely understandable. If you read my blog post 'Starting Stout Tent', you'll remember I also had twin one-year-olds and a four-year-old at home while managing this crisis! However, I chose to learn and grow, and was determined to come back stronger.
So what did I learn? If I could do it over, what would I do differently? DON'T PICK THE CHEAP TENTS. This is what I now tell my customers who want to break into the glamping business. When you have clients depending on your and your inventory, you really can't afford that inventory to fail. You need to make sure that you're buying quality canvas from a reputable company who can help you out if something goes wrong. I am proud to say that after that rocky start, Stout Tent is now a mature multi-millions dollar business. We've been able to help our wholesale customers make sure that they aren't in an impossible situation by providing our rentals to them during those inevitably tough spots (like a truck being impounded while full of their inventory type of tough spots – true story!). We warranty our tents so that you don't ever have to worry about a manufacturing problem like the one we had. We are focused on providing not just inventory, but a SERVICE. We want to answer your questions and we want to see you succeed. Ever since that first event, I have been building Stout Tent to be the company that we wished existed when we were first starting out.