How to Clean Mold From A Canvas Tent
We get so many requests for how to clean mold from a canvas tent that we've decided to share our secrets with you.
However, we cannot stress enough that the best way to have a mold and mildew-free tent is through prevention and general maintenance, not through cleaning. We encourage you to read carefully through the prevention information outlined below as well as the cleaning steps at the bottom to make sure your tent remains clean and safe for you and your family to camp in.
Mold and Mildew Prevention
1. Do your research. Not all canvas tents are created equally.
Stout Tents are treated to be both waterproof and mold resistant. The canvas we buy is guaranteed to cover the top 500 strains of mold found in North America, and our tents include features designed to keep water on the outside of the tent where it belongs. This isn't true of every tent on the market. Stout Tent also uses 100% cotton canvas while cheaper canvas tents use materials designed to mimic canvas. These products are coated with a synthetic lining and can impact the breathability of the tent, leading to poor ventilation and to condensation build-up. If you notice a substantial amount of water droplets forming on the inside of your tent, you have likely purchased one of these types of tents. You will need to focus all the more on prevention steps.
Of course, just because Stout Tents are mold resistant against the top 500 strains found in North America doesn't mean you won't encounter any mold or mildew issues in your Stout Tent. You might encounter a different strain or, if you're not taking proper precautionary steps, it might just be too easy for mold to grow. Read on for some more helpful preventative steps below.
2. Be mindful of water and snow run-off.
It is harder for mold to form when water isn't allowed to pool. Check for the following routinely:
Make sure water is not pooling on any of the eaves.
Make sure the tension on your lines is appropriate.
If you're using a platform, be sure not to over tension your lines and cause undue stress on the cone.
Be sure that the roof of your bell tent extends out over the sidewalls.
Be sure that water is not dripping off of the roofline onto the canvas sidewalls.
3. Keep the inside as dry as possible.
Water shouldn't pool inside the tent either. Here are some things to check for:
On your Stout Tent, keep the canvas flap down over the groundsheet zipper when the sidewalls are not rolled up.
Make sure that the bell tent A-frame is upright and that the eave is protecting the door.
When closing the door, make sure that the door flaps cover the zipper so water cannot get in.
During inclement weather, keep the canvas tent windows and canvas shutters zipped. We do encourage you to leave the shutters parted at the top to allow for ventilation, however. If you have properly set your guylines and the roof of your tent is extending over the sidewalls, you should be able to do so without rain coming in.
4. Prevent Condensation.
While condensation is less of an issue for Stout Tents thanks to our natural canvas fabric, it can still happen. Condensation while camping can is caused by humidity, temperature fluctuations from day to night, and even from human (or pet!) breath inside the tent when you sleep. Too much condensation is problematic. Fortunately, there are ways to cut down on how much you'll experience in your tent.
Choose a good site for your tent. Avoid wet grass and spongy, saturated ground.
Don't cook inside your tent. Boiling food and water adds water vapor to the air, which leads to condensation build-up. (This one is a little tricky because using a wood-burning tent stove will help to dry and remove that vapor. If you think you're having issues, best to err on the side of caution).
Be prepared for rain. Rain makes condensation worse if you don't have a Stout Tent. If you do have one of our tents you could still notice small droplets of condensation your first time out in a storm. Sometimes the areas around the stitching need to season. In very heavy storms, a minor amount of rain may bounce off the canvas and into the tent vents as well. Have towels handy to wipe down the inside of your tent if need be.
Add a wood-burning tent stove. As mentioned above, this will dry out the air and warm things up for you.
5. Ventilation is key.
The last part of prevention (before we move on to how to clean mold out of a canvas tent) is proper ventilation. Moisture will continue to build in a sealed tent and will cause problems until it is removed. Here are some tips on using ventilation to fight moisture and condensation from inside your canvas tent:
If you have a Stout Tent with the Double-Wall feature, raise the sidewalls during the day (and in good weather).
Check that your windows are properly vented – all the way open in good weather, and cracked at the top if it's raining. Use the doors to your tent to ventilate in the same way.
If you're located somewhere very humid and muggy, consider adding a fan or even an AC unit to your setup.
Check that your canvas tent dries completely every day. A fan can be helpful for this.
During wet periods of weather, even if it's not cold, consider heating the inside of the tent to help the canvas dry.
Place the tent in the sun where it is more likely to stay dry – or to dry quickly in the event of rain.
Consider adding a layer of protection from above. Our sunshade helps to keep moisture in the air from condensing on the outside of the tent canvas, keeping everything drier.
6. Never, ever put your tent away wet. For any amount of time.
This is the fastest, easiest way to guarantee yourself a mold problem.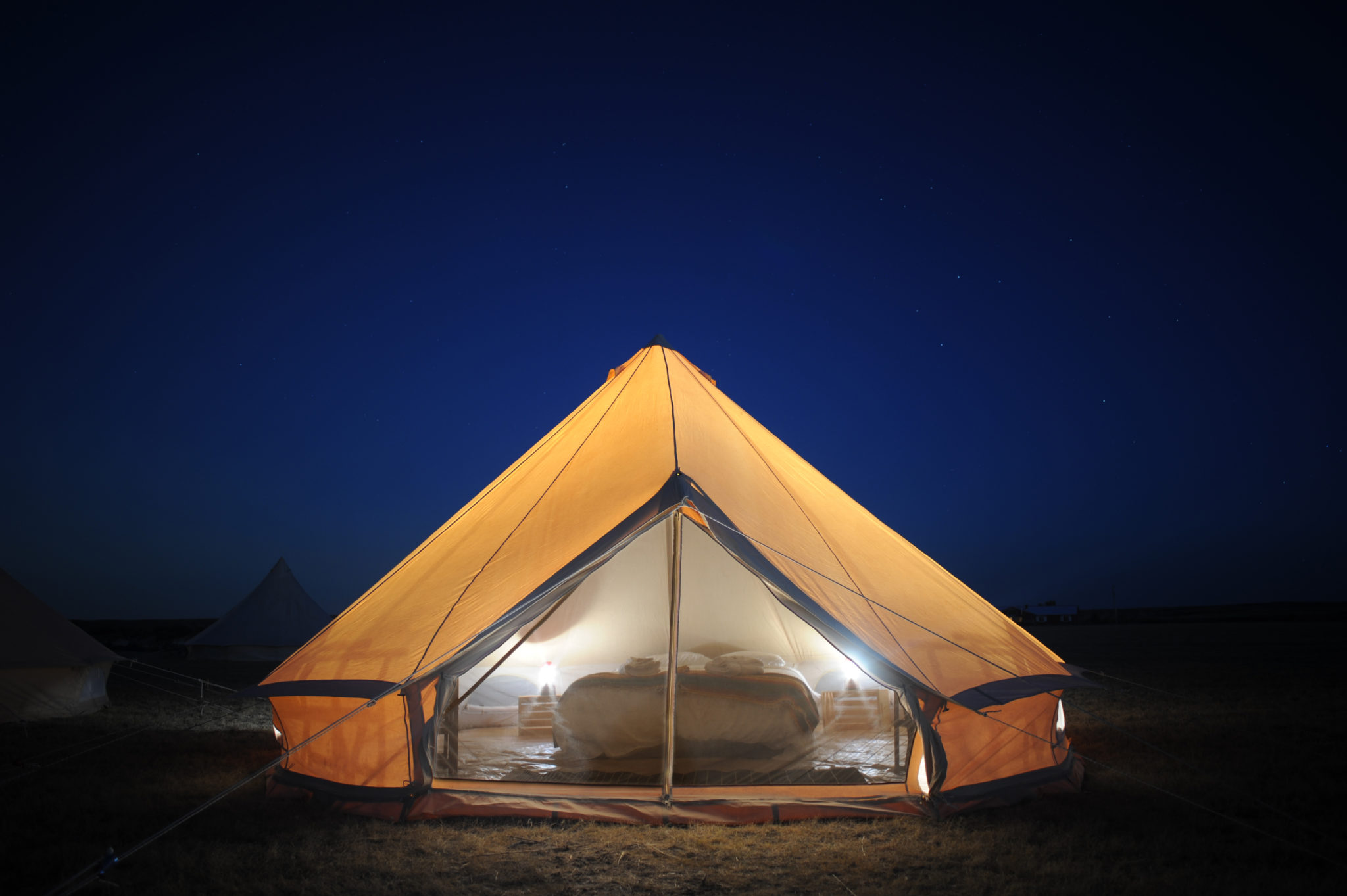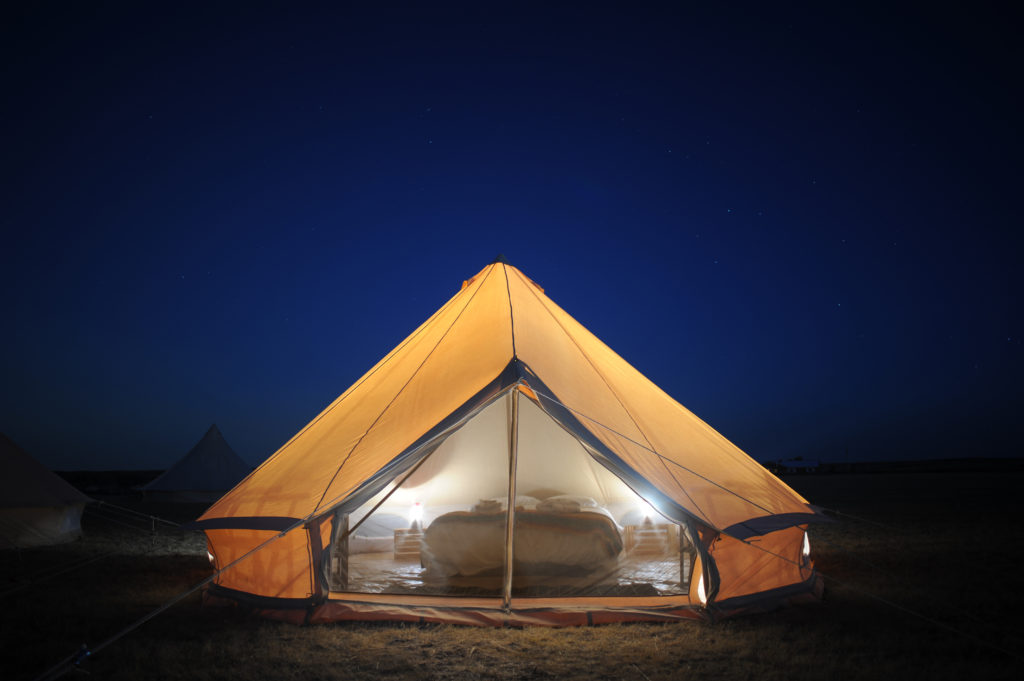 How to Clean Mold From a Canvas Tent
Now you know how to prevent the mold problem, let's talk about how to clean it.
1. Spot Cleaning Mold and Mildew
If you see mold start to grow, even a bit of discoloration, spot treat the affected area as soon as possible. One option we like is Liquid Mold Remover. Spray a washrag with the Liquid Mold Remover and place it over a broom. We recommend this method when wiping away condensation, as you'll be able to reach the high ceilings and walls of your tent and will be applying a preventative product.
You can also use warm water, Ivory soap, and a soft-bristle brush to clean any spots of discoloration or mildew you find. A toothbrush or swimming pool brush with a shorter extension are both good choices for this. 
2. Cleaning the Whole Tent
Please note that the following steps are what we use here at Stout Tent. We do not accept any liability for other products. Please take proper precautions while cleaning your tent. Be sure to wear safety goggles, a mask, and clothes that can get bleached.
You will need:
Power washer (gas/electric) – attached to a water supply

Pesticide sprayer

Marine31 Cleaner (1 gallon/tent)

Clothes that can be stained/bleached

Goggles or other eye protection

Mask or other respiratory protection
Steps:
1.   Set up the tent. (The products used may hurt your lawn.)
2.  Start inside with a light power wash to remove all loose debris/staining. Careful not to get too close and damage the canvas!
3.  Pour the Marine31 into the Pesticide Sprayer. (We dilute 50/50 with water.) 
4.  Spray the solution to 2 panels, top to bottom. Remember, start inside.
5.  Let sit 3-4 minutes. Don't leave the cleaner on longer than that or you could damage the canvas.
 6. Rinse, rinse, rinse with the power washer. Seriously, you cannot over-rinse. Rinse until the water is clear of the cleaner.
7.  Repeat steps 4-6, 2 panels at a time, until complete.
8.  Move outside. You may need a complete clean outside as well, or you might get away with a spot clean (as outlined above). If your tent needs to be completely cleaned, the steps are the same.
3. Reproofing Your Canvas Tent
The final step is to reproof your canvas tent for water resistance. This treatment is only applied to the outside of the tent.
You will need:
Pesticide Sprayer (if using the same one as above, be sure it is thoroughly cleaned in between)

303 Fabric Guard

Clothes that can be stained/bleached

Goggles or other eye protection

Mask or other respiratory protection
Steps:
1.  Pour the 303 into a pesticide sprayer.  
2.  Go inside the tent and take down the center and a-frame poles. Put a saw-horse inside to keep the center of the tent elevated, but not out of reach of the sprayer.  
3.  If you are in extremely arid conditions, spray the tent with water first, and allow it to mostly dry so that your canvas is ready to soak up the treatment.  
4.  Pump the sprayer to obtain some pressure build-up.  
5.  Spray the top of the tent with 2 gallons of 303 fabric guard. We recommend wearing a mask while you do this step. If your tent has been aggressively power-washed, you may want to use a third gallon.
6.  Go inside the tent and replace the poles.
7.  Using another gallon of 303 to hit the sidewalls and pay attention to the seam between the roof and sidewalls.   
There you have it! You now know how to clean mold from a canvas tent – and how to prevent it! This cleaning and reproofing job will take 3 to 4 hours from start to end, but we think you can do it! If you have any questions or want to share your success story, leave them in the comments below!