Stout Tent Stories is a collection of real experiences from real Stout Tent customers who took a leap and brought their dream to life.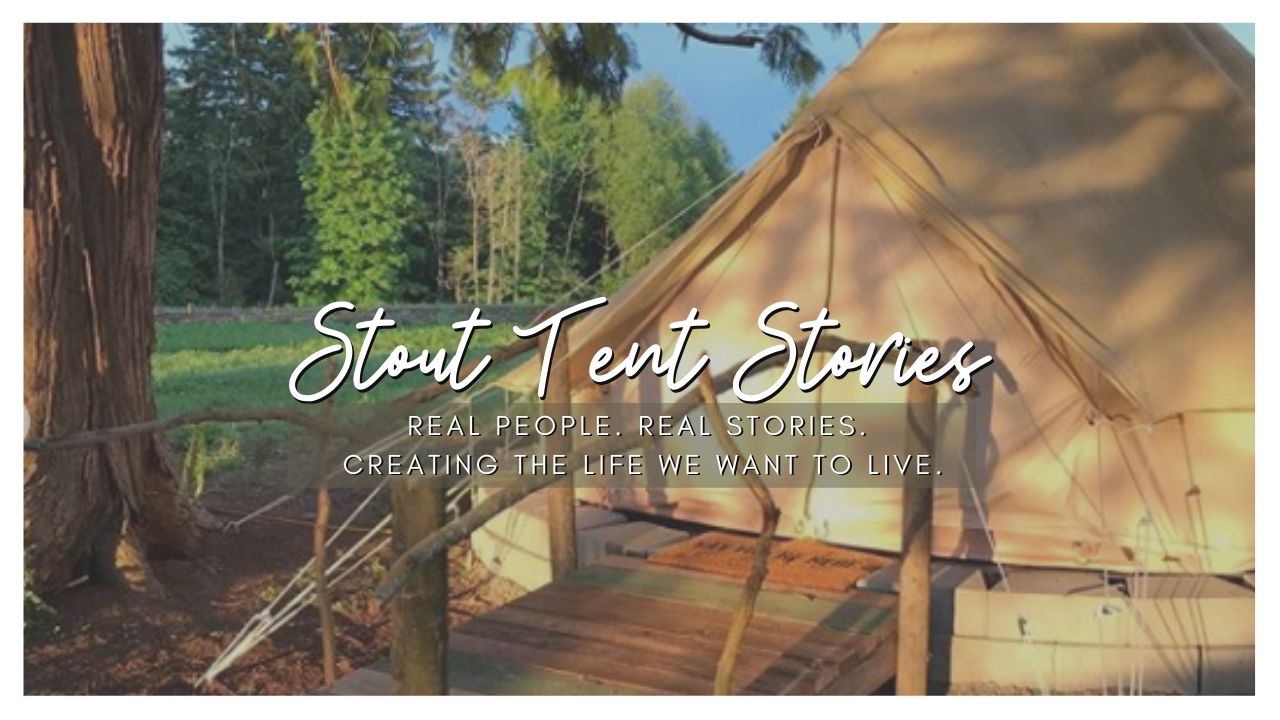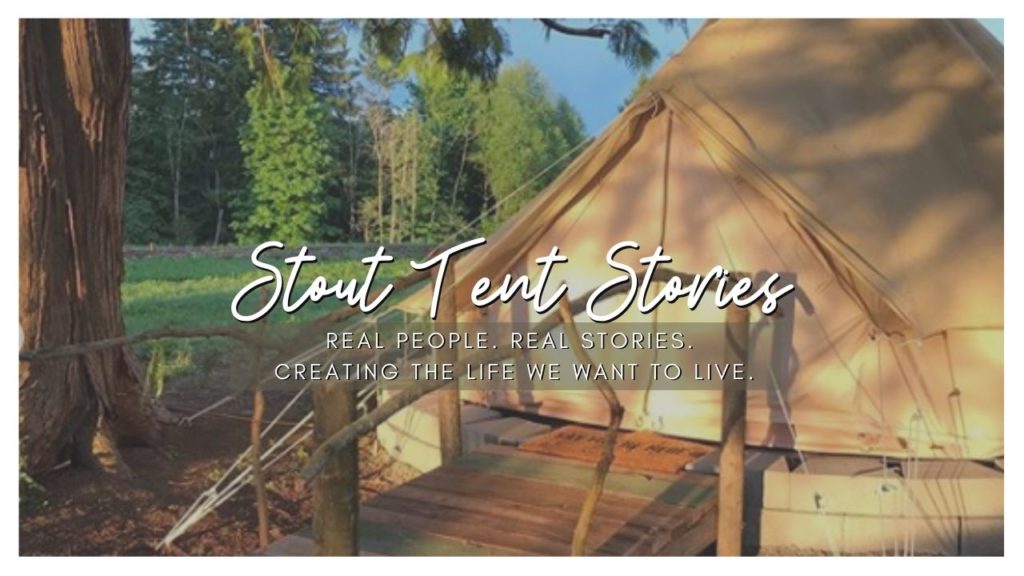 Stout Tent Stories: Domke Farms Glamping Farmstay
Located in Boring, Oregon and nestled in the shadow of Mt. Hood, in a cathedral-like grove of trees, Domke Farms bustles with excitement. An easy 40 minutes outside of Portland, it's an ideal place for adventure seekers to enjoy the beauty and serenity of the Pacific Northwest and a restful spot for local Oregonians to escape the city. 
Upon arrival, prepare to be greeted at the gate by the cutest welcoming committee. Nigel, a 15-year-old poodle and his two goldendoodle sidekicks, Primrose and Olaf, who are beyond excited to take you on a tour to explore their charming homestead.
Chip and Amy, the owners and operators of Domke Farms, are salt-of-the-earth people. Kind and talented, this power couple, and parents to two amazing grown daughters (and three spoiled dogs!), have used their creativity and connection to build this special place.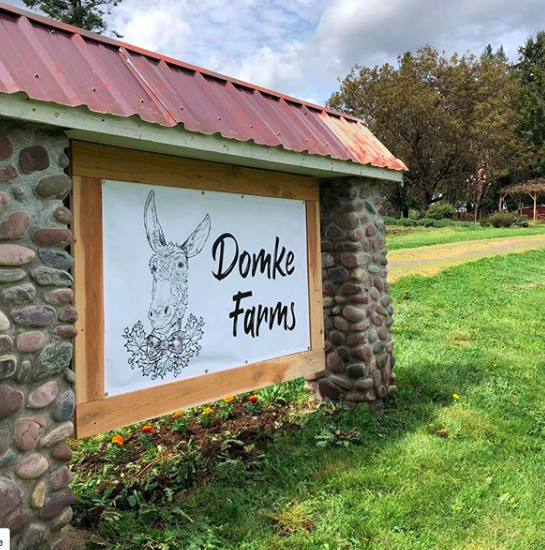 How Domke Farms Began
Before Domke Farms, Chip and Amy worked in long term care and later in corporate hosting and management. Chip has perfected the art of being able to read into and anticipate people's needs. Amy is a long-time expert at quilting, sewing, and needlework. She grew a love for connecting with others as she traveled the country teaching her craft. Content in their careers, Domke Farms happened almost by accident. A couple traveling through Oregon posted online that they were looking for a place to park their Airstream trailer for a while. Being the kind people Chip and Amy are, they volunteered their land as a short term stop. The hosting seed was planted and soon afterward Amy and Chip decided to share Domke Farms with more people.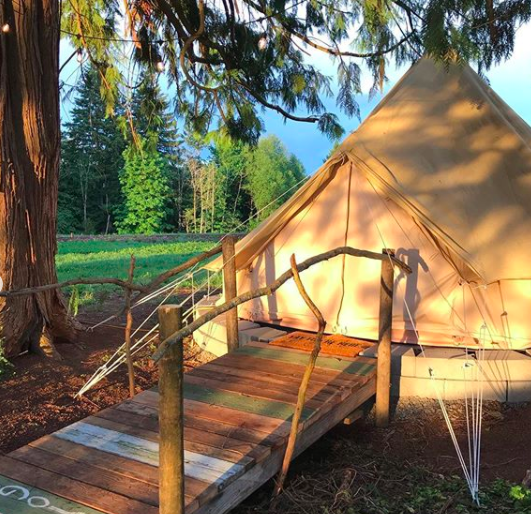 The Perfect Getaway
Chip and Amy have created the ultimate oasis. They have somehow managed to offer the peace of a retreat, the attention to detail of a resort, as well as the warm family welcome of coming home, all packaged into one campsite. And in case you're someone who likes to have things to do, there is always something interesting happening on the farmstead too. They produce specialty honey infused with CBD, house chickens that lay eggs for breakfast, and coming soon… a beautiful garden fit for a CSA!
For those who love glamping farmsteads for the fresh food, you're in luck! At least one meal per day is enjoyed with the ingredients straight from the farm garden, and guests are encouraged to help themselves to whatever fresh growing snack they may find as they explore the property's six acres. The delicious fruits and vegetables they currently harvest includes corn, beans, potatoes, strawberries, rhubarb, kale, apples, and more!
Strange Times
Domke Farms officially opened to guests in April 2020, which may seem like the worst possible time to start a business, given the rest of the world seemingly shutting down due to COVID-19. However, like many other glamping b&bs, they found that offering private accommodations out-of-doors is actually an ideal and safe way for people to enjoy the benefits of getting away! It's been just over six months now and bookings continue to trend up. When asked about their typical guests, Chip expressed that everyone has been very different. They have attracted a wide range of guests: a mother who lived five miles away and was looking for a peaceful night away from her children, Portland residents looking for a couple nights away from the busy and noisy city, couples celebrating anniversaries. Retired couples passing through, solo travelers, and even road trippers who had come to see Mt. Hood, all who have looked to Domke Farms as a place to rest and relax.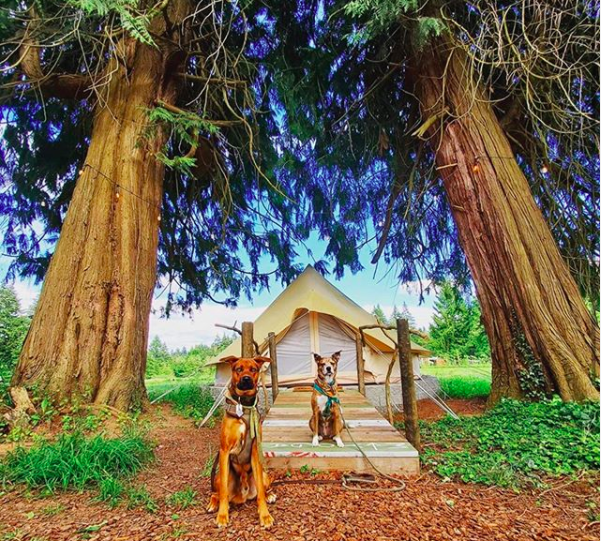 What is there
When staying the night at Domke Farms you have two choices of accommodations. The first is the Donkey Shed. This charming Alpaca feed barn has been transformed into an adorable farm cottage with running water, a private restroom, and enough beds to fit the whole family. With a breathtaking view of Mt. Hood, it's been very popular!
Your other choice is the Canvas Castle. This 5M Pro Series Stout Bell Tent offers a more intimate option for guests. What makes this tent even more unique is the ingenious custom carpeted platform. Beautiful, functional, and definitely Instagram and Pinterest worthy, the Canvas Castle, with the upgraded platform, is a huge hit. Just ask the soon-to-be bride who recently enjoyed a storybook surprise engagement there!).
Another bonus for many outdoor lovers is that Dike Farms is fur baby friendly. Chip and Amy love that their guests can bring their dogs along with them.
This is glamping to the max! Included in your experience, when you book a night in the Canvas Castle there is a hot water pot, French coffee press, clean towels, and a custom made outdoor shower with its own free standing bathtub. Yes, really!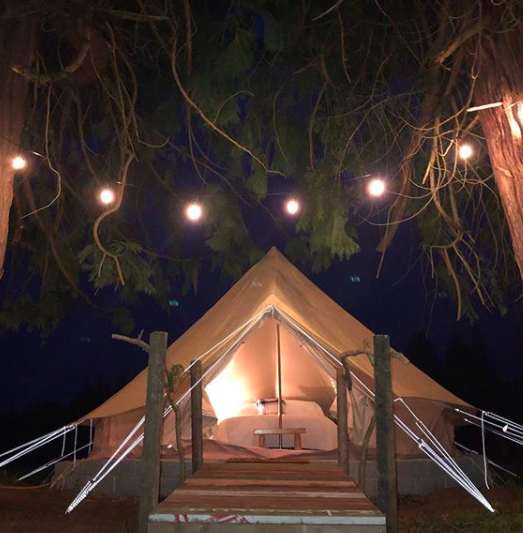 They're Filling Up!
Domke Farms prides themselves on making every guest feel as if they are the first and only. They might be new, but they are clearly off to a successful start and just beginning to catch their stride. CSA, quilting classes and workshops are already starting to scoop up available weekend spots at the farm, so if you're thinking of having an experience here, reserve early and right away! The word is spreading quickly that a couple days there is the reset button you have been needing and searching for.
Interested in planning an event, or just a private getaway? Click here for more information on how to stay at Domke Farms.
Follow them on Instagram: @domkefarms 
**Stout Tent provides customers with a thorough Maintenance Booklet to properly care for your tent and protect your investment. We also offer in-house maintenance and repairs, and are available by email or phone for questions you may have about your specific climate or situation.