Stout Tent Stories is a collection of real experiences from real Stout Tent customers who were bold enough to bring their vision to life.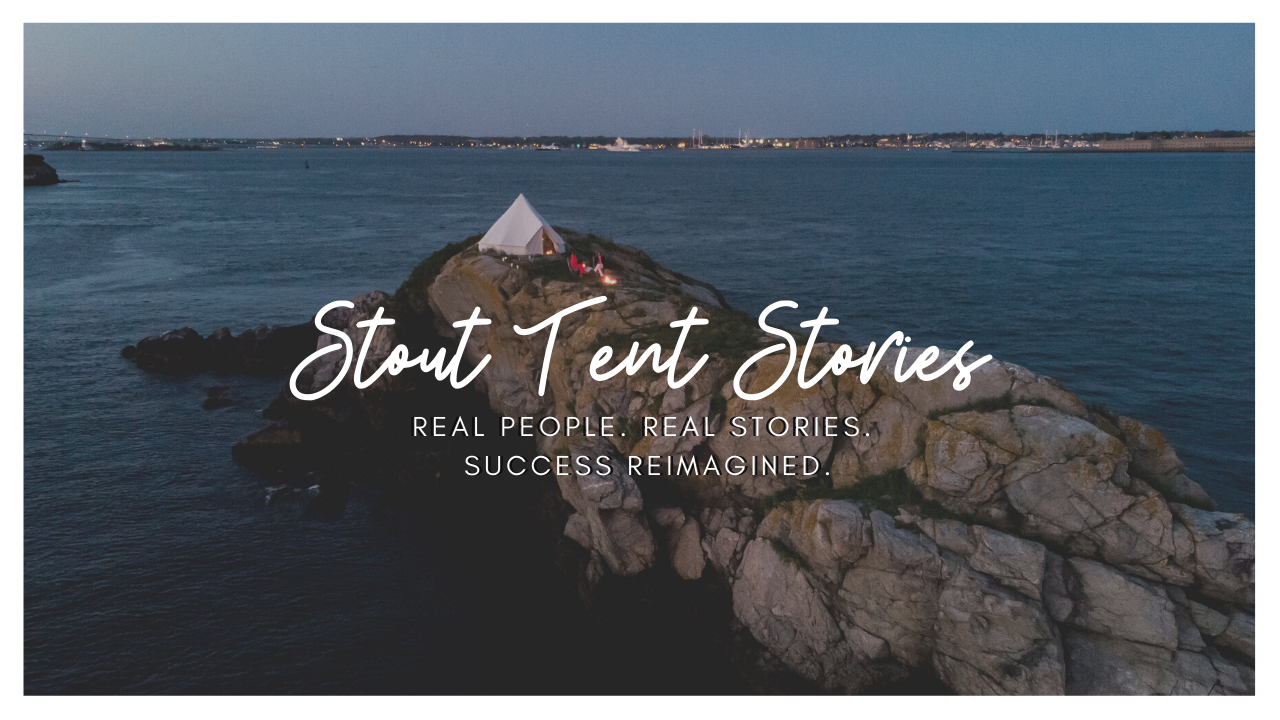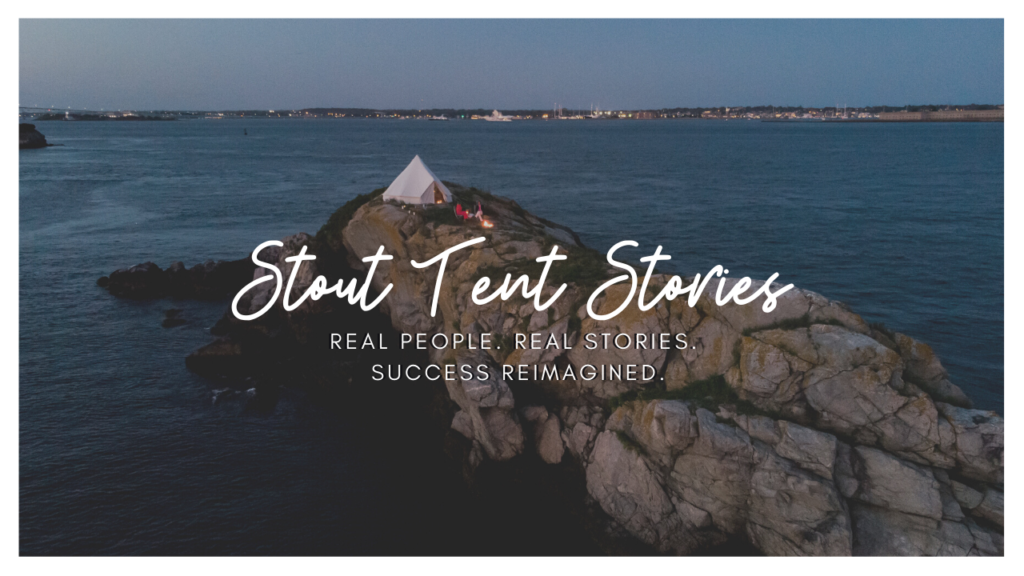 Stout Tent Stories: Little Schooner Studios
Who We Are
Little Schooner Studios is a creative duo focused on fusing nature and outdoor brands to tell a dynamic story. As sailors and adventurers, we know the healing power of nature, how moving in harmony with the elements creates a deeper connection within ourselves and the world around us. Through our work we collaborate with companies that inspire responsible and transformative immersion in the outdoors.
We were drawn to Stout Tent's products for the rugged durability of these otherwise elegant and comfortable dwellings. After four months of quarantine in our hometown in New England, the adventurers in us were itching for some time in the wilderness. Before owning a Stout Tent ourselves, we envisioned the endless off-grid stories and experiences waiting to be created around these beautiful canvas tent abodes. When the tent arrived we were not disappointed; every inch of it is immaculate and built to withstand even the most rugged adventures and conditions.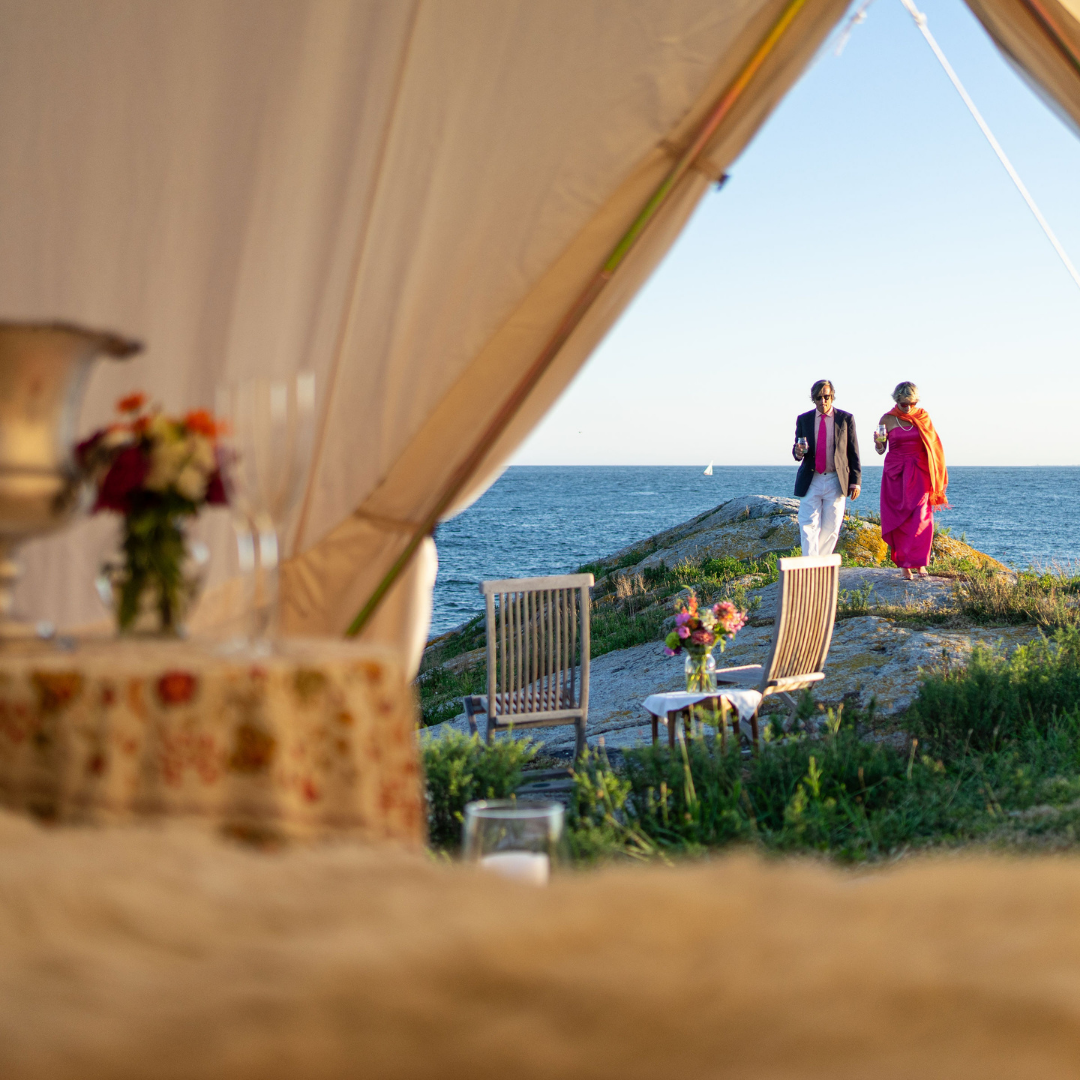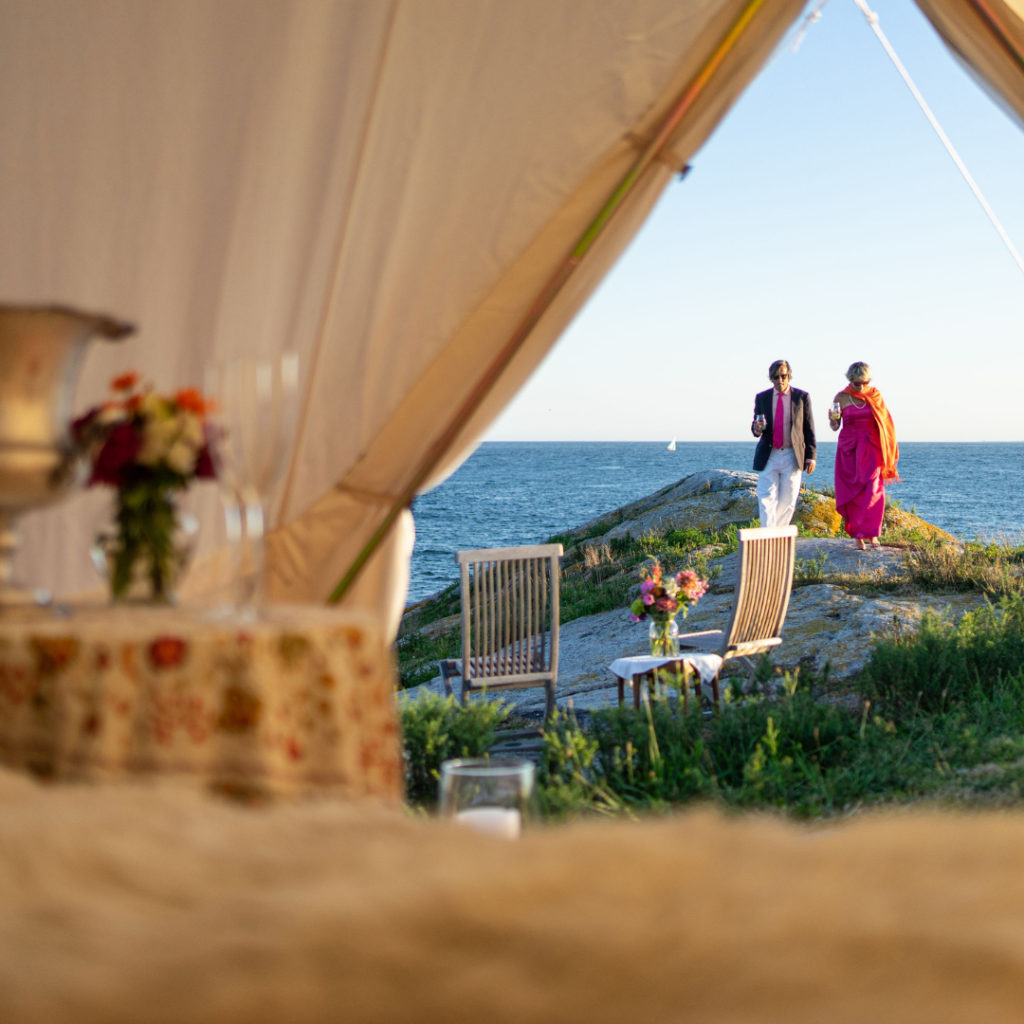 What We Do
Armed with our Stout Bell Tent and a few accessories, we set out to capture the New England glamping experience. Our headquarters is stationed in Newport, RI on the Narragansett Bay, a hub for yachts and seafarers. Newport, also once the home to high profile socialites, such as the Vanderbilts and Jackie O, is known for its gilded architecture, exclusive yacht clubs, fine dining restaurants, and ritzy boutique shopping to which tourists flock for an elegant escape. Always looking to the world surrounding us for inspiration, we played off Newport's unique, high society history. We gained permission to access a private rock island in the middle of the bustling bay and dreamed up a cocktail glamping experience to remember.
The tent itself can easily be set up by one person in just a matter of thirty minutes… that is, when you aren't trying to erect it on a rock only accessible by small vessels. That offered a challenge all of its own, but before processing all of the logistics of getting everything and everyone out to the rock, we had to figure out how to pitch the tent there. Sandbags? Build a platform? Rocks? We were determined to find a solution that was both sustainable and practical. After much deliberation, it dawned on us to use climbing anchors. Not requiring these to bear the weight and responsibility of a human life, we would only have to make a small incision into the rock and easily remove them afterwards. With that sorted, we were off and running.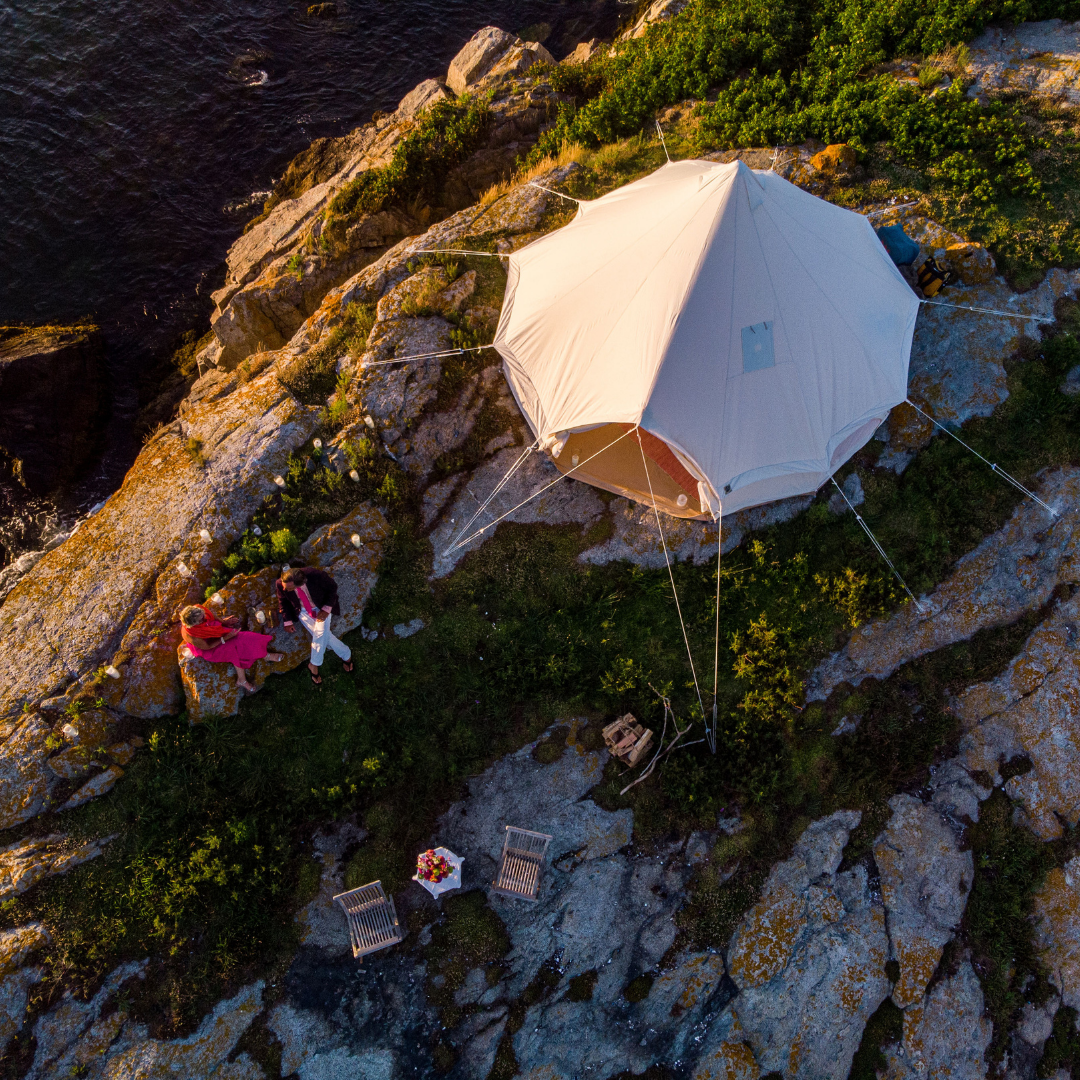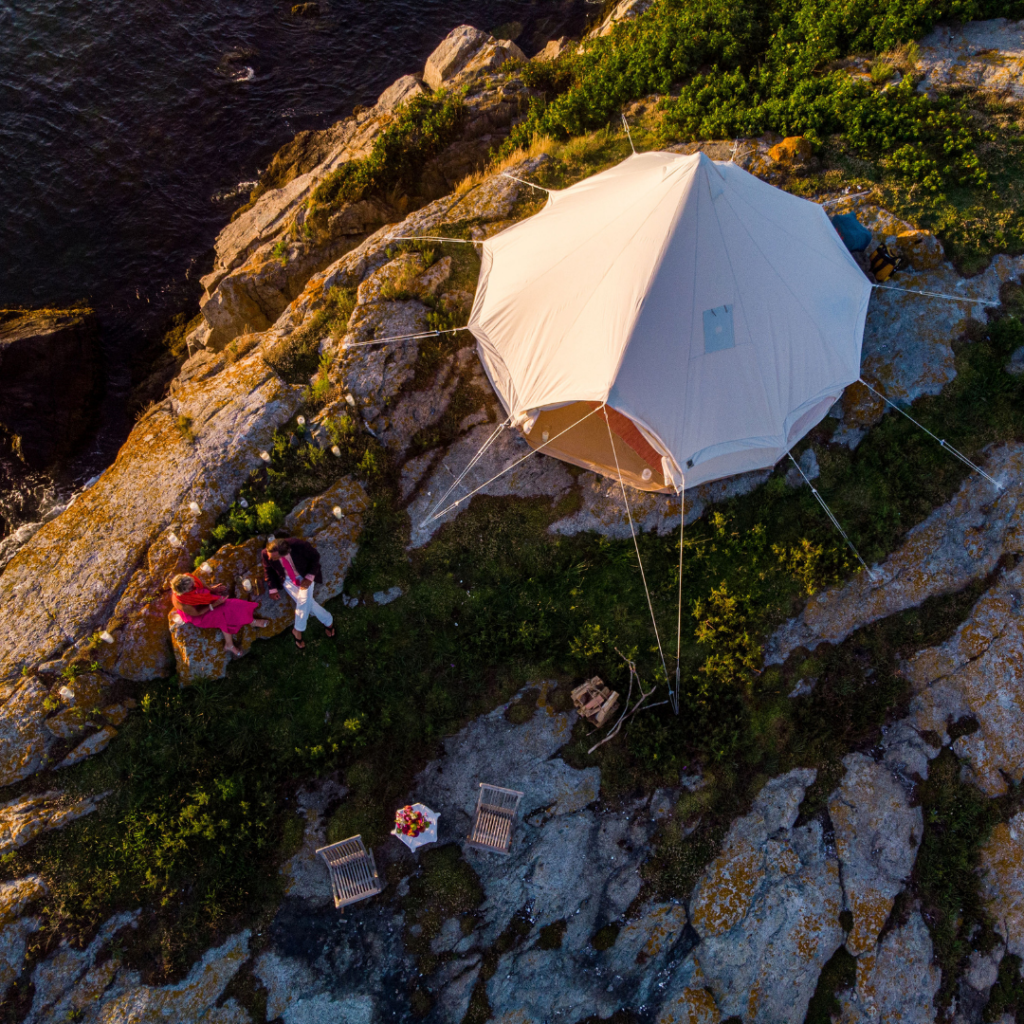 An Inspiring Adventure
The day arrives and the feelings that come with shooting a once-in-a-lifetime experience are immense. Adrenaline pumping, butterflies fluttering, excitement is soaring. Hauling the tent and gear up the rock starts early. We are met with curious and wonder-stricken passers-by on the local head boats and daysailers. Text messages from friends and salty skippers, "What the… WHAT are you doing on that rock?!" After blood, sweat, and a well-deserved beer, the tent is up, furnished, and ready for our guests. They are shuttled over to the island draped in their eye-catching evening wear and pearls, just as five o'clock strikes. Champagne pops and an elegant evening reminiscent of JFK and Jackie commences.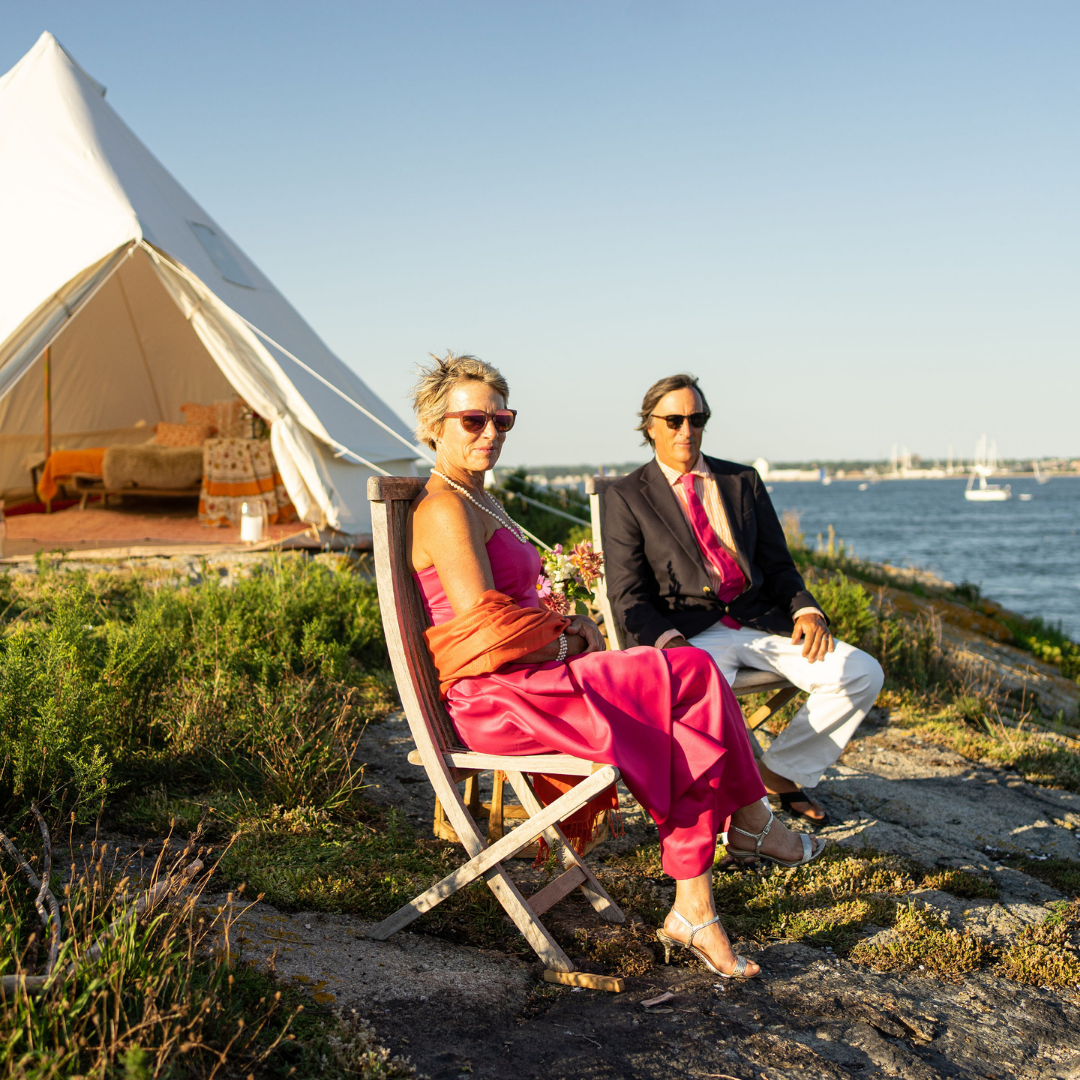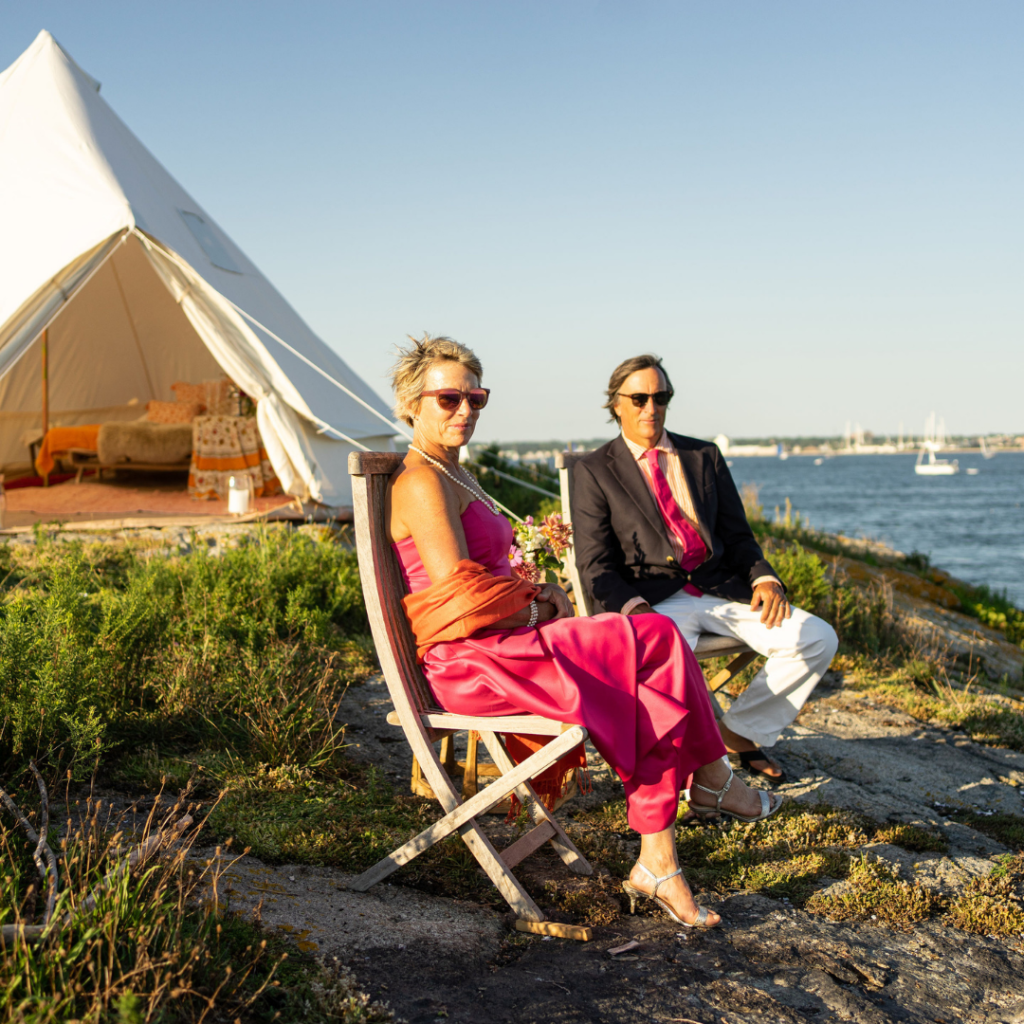 The sun softens, it bathes the Narragansett Bay in a golden light, reflecting off the craggy New England coastline and shimmering sea. The tent stands tall amongst the masts of schooners and the iconic Newport bridge, bringing an otherwise unnoteworthy rock to life. As the cocktails flow, we are the life of the party on the bay. Boats pass close aboard to get a better look at the remarkable scene and exchange excited salutations.
As the sun sinks below the horizon and the last notes of color sweep across the sky, the sunset cannon salute is fired. Boats scurry home as a small fire is built to take the nip out of the salty air. The stars emerge and we take in the grand display, wondering if anyone aside from the cormorants has ever spent the night on this rock before.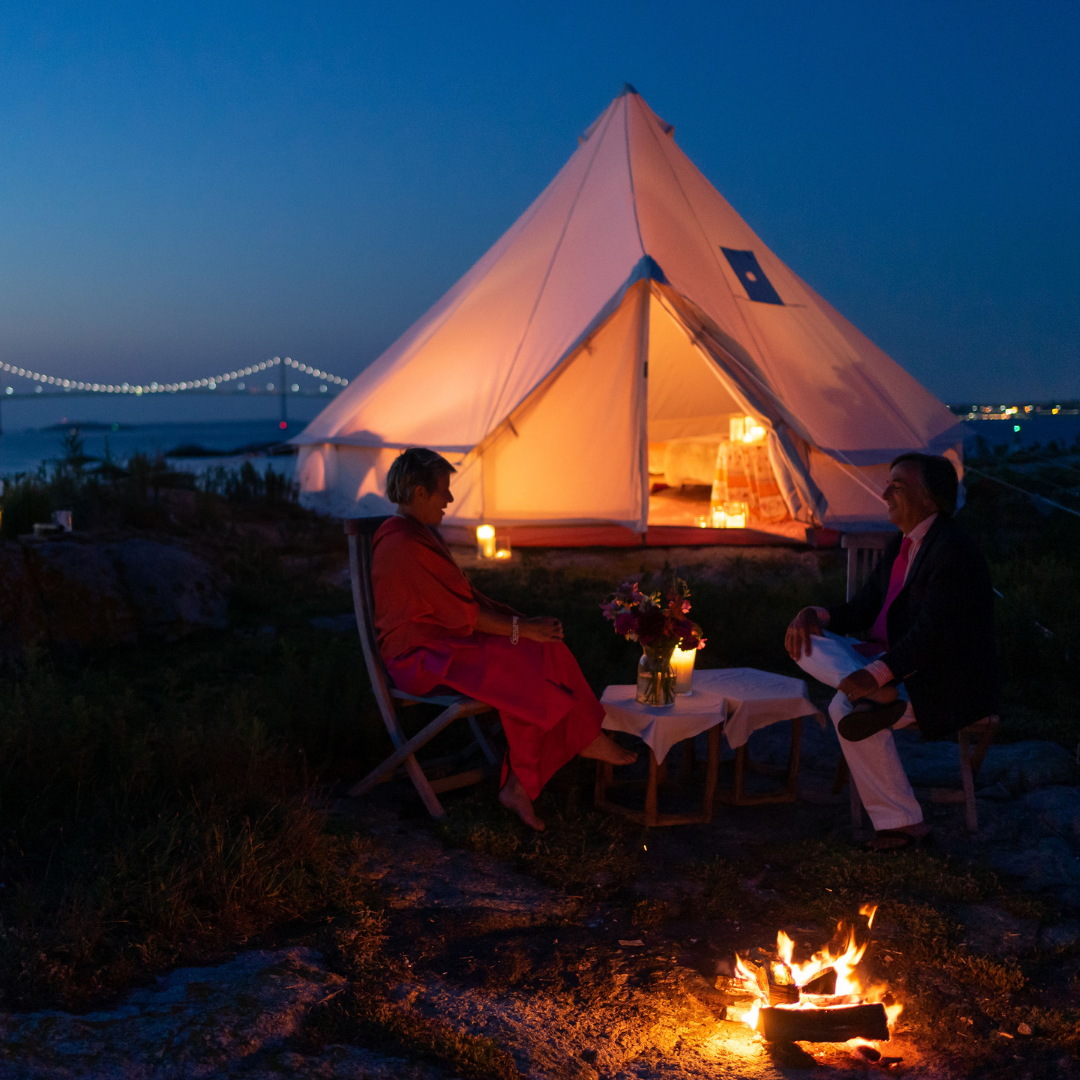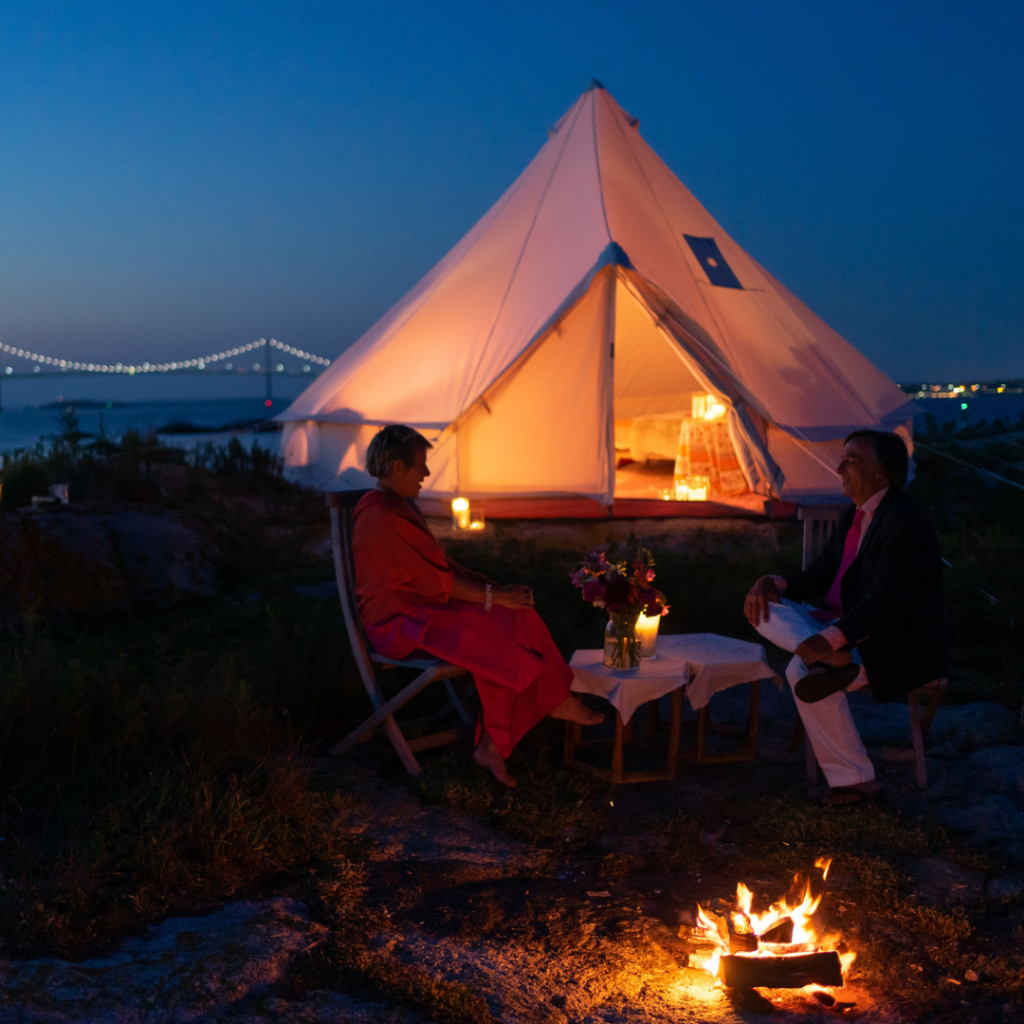 WANT TO SEE MORE?
Want to see more of what these creative geniuses are up to? Follow them on Instagram @littleschoonerstudios
**ALL Pictures in this post are copyrighted and not permitted for use without exclusive permission from the photographer. **
Photo Credit Info for the Pictures in this post are as follows: 
Little Schooner
Duo / Photography : Denis Dowling (@capndarling ) & Allie Medeiros (@_alli_sun_)
Stylist – Allie Medeiros
Art Director – Isabella Babcock
Logistics – Bill Butchinson, Denis Dowling, Allie Medeiros
Models – Bill Hutchinson & Vivi Valentine
Launch Driver – Valen Coble