Bell Tent Glamping in Maine
Bell Tent Glamping at Hermit Island in Maine provides a perfect family getaway. Here's how to be sure to get a great fit!

How can you ensure your bell tent will fit on a standard campground site? 
When I think of camping (or glamping) in a bell tent, the photos we've all seen online come to mind: the wide open spaces, uninterrupted mountain views, and not another soul in sight. For sure, those experiences are amazing, but what if you visit a place where camping is more regulated, and you're restricted to a standard campground or Hip-Camp area? Can you still enjoy your bell tent?
In many state and national parks, you can't pitch a tent anywhere you want, and you may have to reserve months in advance. 
It pays to do a little research
.
Hermit Island isn't really an island, but when you camp at this beautiful Maine Coast treasure, you'll feel like you're far away from it all. There's little cell service, and you can get a site on the beach. And I mean, on the beach. If you're from New England, you know that doesn't happen just anywhere. 
When I called to make my reservations in February (they don't take online reservations), most of the prime sites were already booked for the summer. I chose a site on the water on the land-facing side of the island, and after viewing the spot on the website, I knew I'd made a good choice.
I also made sure to explain what I'd be bringing with me.
It's not always easy to find a spot in a campground that will hold a 15-foot bell tent, especially in an area with prime sites. 
The campground website had a photograph and dimensions of each site, which was helpful, and the campground staff member and I chatted about the layout of the site I'd selected to be sure it was relatively flat and could hold the tent, my car, and the picnic table. Being able to gather all of this information ahead of time made bell tent glamping on Hermit Island pretty easy.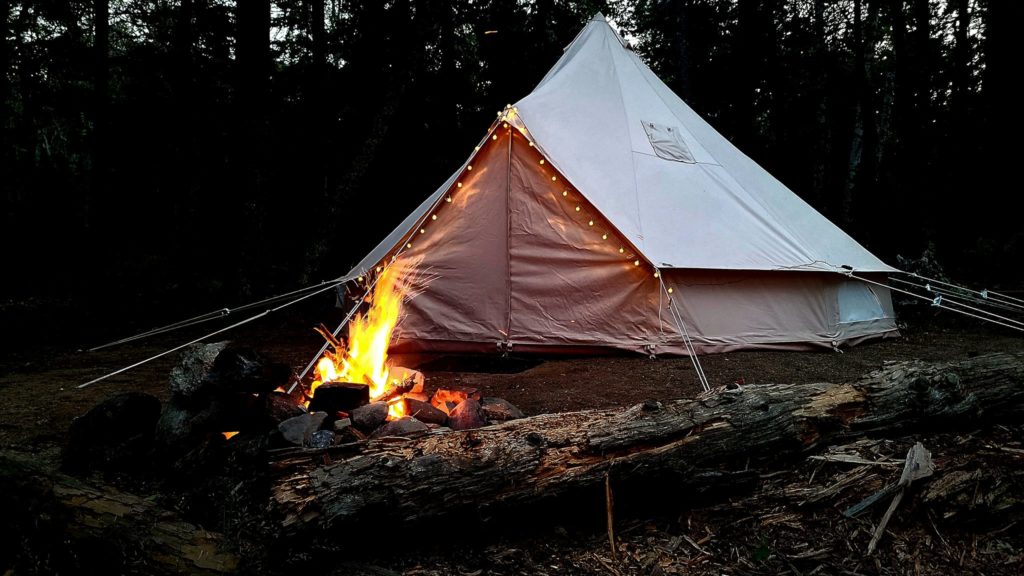 Beaches, trails, and rugosa roses galore.
I was thrilled with the site when we arrived. My sons and their wives were joining us later, and I was so pleased to see the beautiful, spacious sites we'd call home for the long weekend. Tidal waters reflected the towering Maine pines, we could launch kayaks from the sites, and wooded areas between the sites provided privacy. Over the next three days, we explored the island's six private beaches and miles of coastal trails. We cooked over the campfire, fished and kayaked in the ocean, enjoyed one of the most breathtaking beach sunsets I've ever seen, and soaked in the uninterrupted time together. 
Just right.
The bell tent's size is fantastic, even for a shorter outing, and we always have plenty of people comment on how beautiful and functional it is. And while many of the sites would have accommodated us, there were several we'd have struggled to both park the car and raise the tent. 
Don't be afraid to speak up!
Whenever I'm going to camp in a campground with the bell tent, I always check websites for dimensions or call ahead. Baxter State Park in Maine is another incredible destination that would be perfect for bell tent glamping, but it's hard to get online information. If you call the park office, the staff can let you know the site dimensions and will do their best to ensure you a good fit.