Chasing Julia Wild: Glamping at the Burning Man Festival
Let's run away! Each of us with a touch of wanderlust remembers this fantasy that ran through their brains at one point in their lives. Dreaming of climbing to the top of the highest mountains, flying through the air on a trapeze, or simply traveling from one great city to another, taking in the grand show of life. The flutter of what if, what lies beyond, kept us ALIVE!
For most of us, for one reason or another, those dreams slowly dissipate, and what could be, fades into memories of daydreams. But some of us, we chase it!
Chasing Julia Wild has turned her fantasies into reality, and is scooping up the wanderlusters, adventure-seekers, and lovers of beauty along the way. Inspiring fellow dreamers to push their limits and live life on their own terms, she invites us along with her on this journey.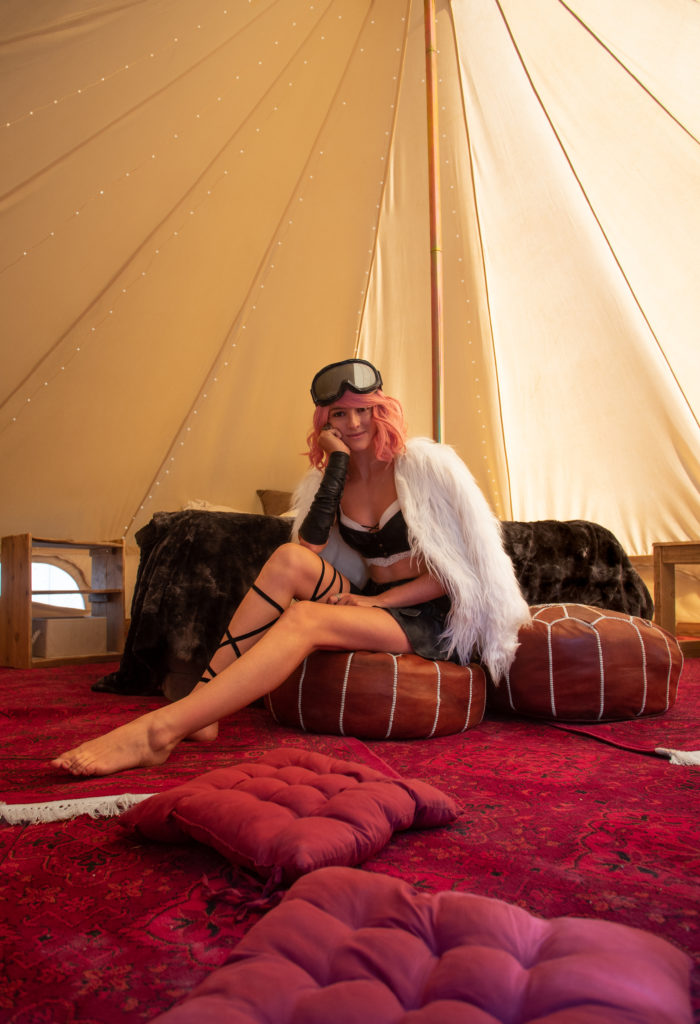 Born and raised in California, Julia is a self-described nomadic adrenaline junkie, traveling the world in search of adventure and magical moments. As a child this energy led her to a career in aerial acrobatics, and as she grew older she set her sights beyond the ceiling of the circus tent. She finished high school early, purchased a Sprinter van with her boyfriend, and set out to explore whatever the road laid before her.
 It didn't take long for the stars to align and Julia was offered the opportunity to join the Cirque Du Soleil preforming team as an aerialist. She traveled all over the USA and Canada to different music festivals and performed in front of thousands of people.
While traveling with Cirque De Sole Julia first experienced the Burning Man Project. It opened her eyes to a different level of inspiration. She met amazing, passionate, creative people and knew she would be back to Burning Man every year from then on.
If you know anything about the Burning Man festival, you know that you spend about a week in the silky fine sand called playa dust (check out more tips for how to deal with playa dust), and scorching desert heat. The challenge for people amongst this otherwise life changing experience, is finding a solid, comfortable place to rest away from the sun, and for sleeping. Julia was thankful for her van on the Playa that first year, but knew she wanted to invest in a place she could customize to meet all her festival needs.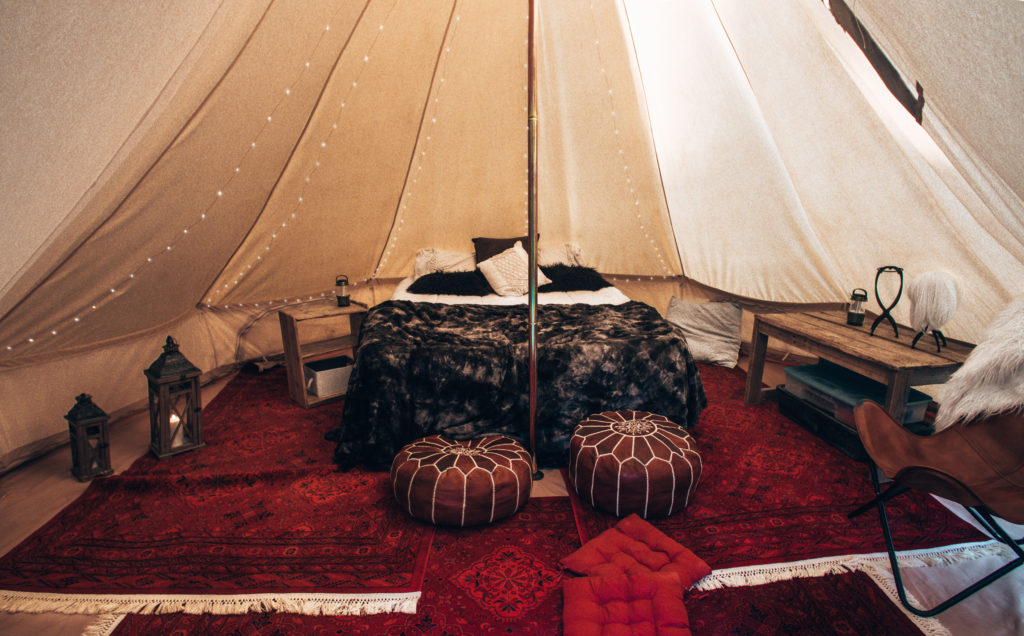 She went to work researching, trying to figure out what would make the perfect oasis in the almost foreign landscape of the Burning Man Festival. Her choice was a 5M Pro Series Double Wall Bell Tent from Stout Tent, she also added the Sunshade.
When we interviewed her, she told us, "I was drawn to Stout Tent because of the exceptionally good customer reviews. I love how customizable the tent is. We wanted more space and ambiance for our second year on the Playa. We had solar string lights, plush floor cushions, a queen size bed, and enough floor space to practice acro and play guitar with all of our friends. We would turn the lanterns on, and watch the beautiful flickering light dance up the canvas walls. The first thing out of every single person's mouth when they entered our Stout Tent was,  WOW! I had no idea a tent could be this nice!"
 Julia's keen eye for creative design, photography, and production gave us all some incredible photos to ooo and ahhh over. And that seems to be her superpower, taking something natural, practical, or functional, and weaving into a breathtaking piece of art.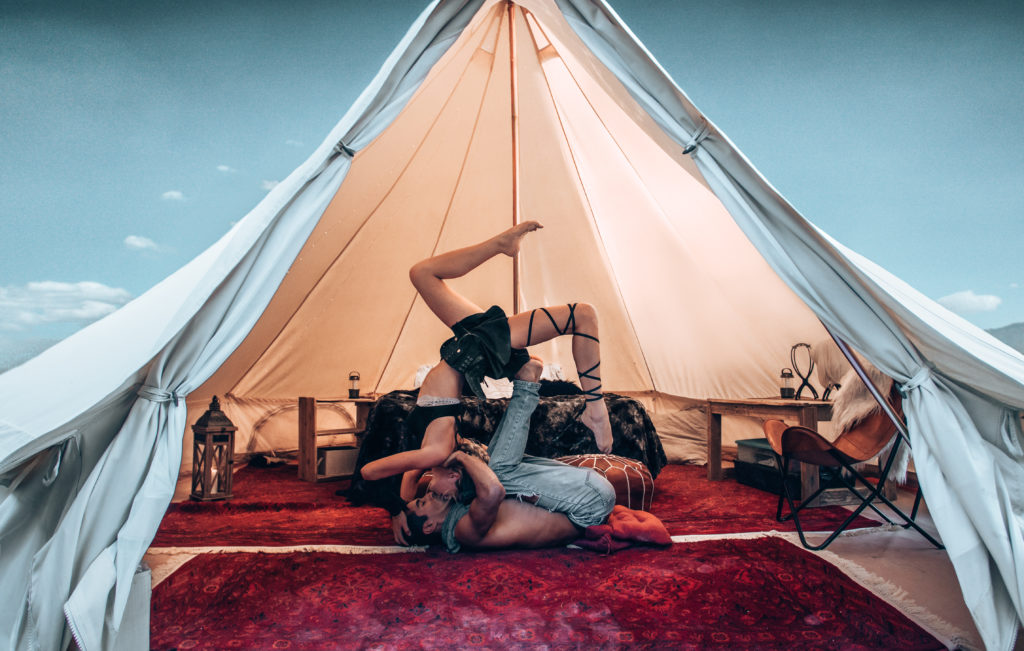 Julia's savvy business sense, and desire to pave her own path, has taken her all the way around the world to the beautiful tropical island of Bali. She currently lives there with her boyfriend and together they are actively pursuing modeling, photography, and entrepreneurship. Armed with only their cameras and sense of adventure, Julia reveals that most of their photo shoots are done by themselves. No fancy studio, or expensive lighting, just her and her boyfriend, a tripod and an eye for what's captivating.  The images they create and capture been will take your breath away!
While Julia continues to build her own brand, she's also started the project of building her own home. In Bali, in the jungle, about 10 minutes from the beach, Julia has found her own slice of paradise. Maybe we just might see that Stout Tent pop up in Bali too!
What to get in on the action? Be sure to follow @chasingjuliawild on Instagram.