Glamping is officially in the dictionary, confirming that the once trendy word for 'camping in luxury' has proven its legitimacy and it's here to stay. But like most things on an upward trend, a lot of options to try out glamping popped up fast, so how do you narrow it down?
As experts in glamping we've got an eye for this and we've put together our bucket list of the Top 5 Glamping Retreats we want to try!  

Located on a quaint island in the middle of Manhattan, Collective Retreats is the glamping retreat that has truly thought of everything. A true highlight of Collective Retreats is it's location, Governors Island. This
glamping resort is just a short 8 minute ferry ride from the heart of Manhattan where you'll be
dropped off on
Governors
Island and greeted by an escort
who will
help you with your luggage and provide a short drive to the property.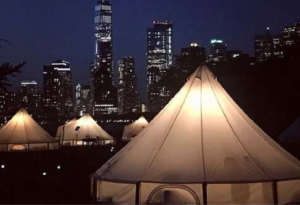 The island is also home to a
small but interesting Fort from World War II, a
high school
, and several restaurants and
snack bars. There are several different options for accommodations, including 
deluxe
 wall
bathroom in their tent. Take the walking path
directly
from the property 
that will lead you around the island to a perfect view of the Statue of Liberty or walk to the top of the small hill
for a spectacular view of the city.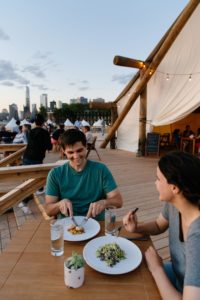 Food and entertainment is no problem, with the property including a gourmet menu, a full
bar,
garden
games like giant Jenga and corn hole, and plenty of different lounge chairs to simply
sit and enjoy the exclusive view. 
Price ranges from $400-800
 per tent/
per night.
El 
Cosmico
, located in 
Marfa Texas,
may
not the most 
glamorous,
per se
,
on our list, but it is probably the most unique and the most affordable w
ith accommodations starting at just
$85 a night.
Marfa, Texas is famous
for two things – a Louis
Vuitton
Store in the middle of nowhere and the Marfa lights. The Marfa
lights are said to glow over Marfa at different times. You can go on guided tours where locals
will take you to their favorite viewing spots, or you can sit out in the 
empty fields and see if
you can find them yourself. 
El 
Cosmico
definitely has a vibe, A Giant Eye hangs in the
entrance to the property and several outdoor 
wood
 burning 
Jacuzzis
 sit nestled together
next to the coffee bar when you first enter. If you're an aspiring influencer, or photographer,
there are lot a lot of photo ops with bright
colors and strong hippie vibes contrasting the desert backdrops.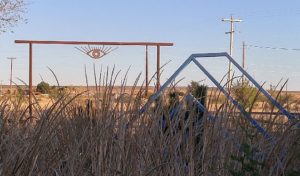 So where do you sleep in the middle of the desert? Take your pick. The permanent accommodations include a
40
foot
Tipi with a fire pit in the middle, a decked out classic 1950's trailer, or a modern tiny
house shipping container, complete with your own private telescope and viewing window. The hot
Texas air and feeling of accomplishment you'l get after driving through nothing
for so long will make you feel a part
of the special club
of people 
who
have completed the journey
 to Marfa
.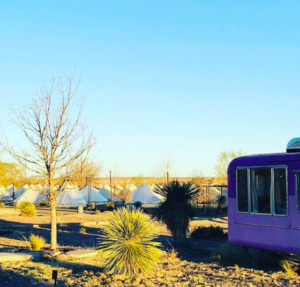 We got to experience this unique place up close and personal with Stout Tent Events. We provided tents for a large group to use this space as a wedding and event venue with our Stout Tent – Pro Bell Tent's serving as rental accommodation overflow. 
Price range $85+ per night
The
Resort
At Paws Up is
 located in 
Greenough, Montana
. 
This glamping stay is an adventure
lovers
paradise and is geared toward glampers who want a full experience.
Horseback
riding
, cooking classes,
painting classes, jewelry making, photography, aerial course, bike park, shooting, river
rafting, hiking, go-karts, fishing,
rappelling
, off
–
roading, live music, and even hot air
balloon
rides… is there anything they don't provide?!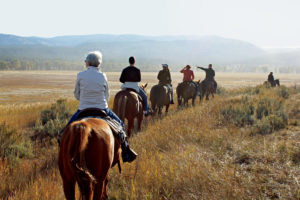 They've got adventure entertainment covered, but we were also impressed with the
attention to the
detail 
around the property
 too
. This glamping resort is on
the pricer end of our list, starting at $1,980
a night, but we promise, you've never seen camping like this before!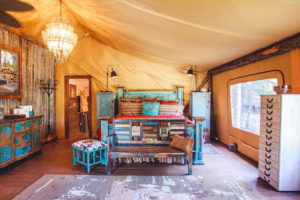 The tents include 
gorgeous bathtubs (ask us about our Stout Tent Glamping Bath Suites), exquisite
furniture,
 and the most 
comfortable
bed you will probably ever 
sleep in. 
The dining will blow you away with several different 
restaurants
on the property and a full gourmet menu. Our mouths were watering just reading the menu! T
hey even have a chuckwagon option listing prime
rib, corn, and asparagus grilled over a campfire for a real cowboy experience.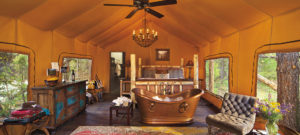 Price starts at $1,900 per night
There is something that just sounds so relaxing about glamping on the beach, hearing the
waves gently crash as you drift off to sleep at night. This list wouldn't be complete without
including
Todos
Santos Eco Adventures. They've established luxury tent camps in two of Baja California's most beautiful nature reserves – Isla Espiritu Santo in the Sea of Cortez and the Sierra La Laguna Biosphere Reserve in the mountains that form the spine of the peninsula.
This place is 
for the glamper that is not afraid to
travel off the beaten path and feels the ocean in their soul.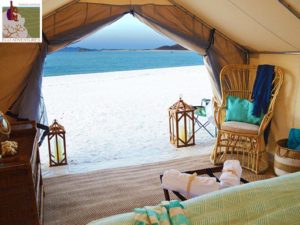 Picturesque sandy beaches and pristine snorkeling are steps away from your tent. Sign up
to swim with sea lions and whale sharks, or take out the kayaks or a paddle board.  For your on shore adventures, enjoy hiking or take a cooking class. But don't worry, you don't have to cook all your own food, there is a chef that cooks all the delicious
meals on site and even provides nightly happy hour.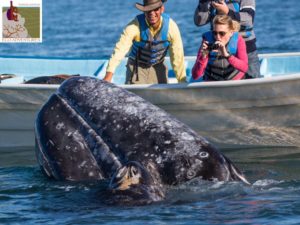 This company is particularly known for its sustainability practices, which is another reason why it caught our eye.  Their award-winning trips and sustainability practices have been featured in National Geographic, the London Times, Outside Magazine, and Coastal Living. Their guides and instructors are all residents of Baja who have a deep knowledge and love for the area, and take great pride in sharing their knowledge and expertise.
(Read more about their sustainability practices here!)
Comfort, adventure, exploration, and genuine care and concern for our mother earth – glamp with TOSEA.
Price starts at $275 per person, per night. 
Located just about a half hour outside of Austin in Dripping Springs, TX is the Lucky Arrow Retreat. This one is for the glampers who want to combine their love of camping with wine and distillery tours (sounds like a perfect combo if you ask me!) The retreat is adjacent to the Bell Springs Winery, and you can book an excursion in a vintage Land Cruiser Troop Carrier with a personal guide who will take you on a tour of local wineries and distilleries.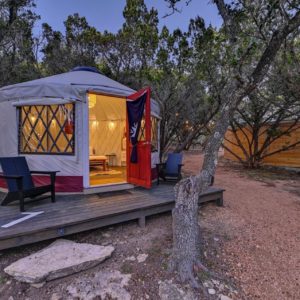 Their glamping tents and yurts feature queen size beds, Yeti coolers and neo-retro Crosley record players. The best part though might be that they come air conditioned so you can still enjoy camping in the Texas summer! This 15 acre retreat also features a covered beer garden and heated pool.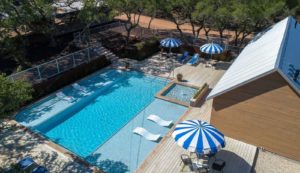 Lucky Arrow Retreat is also a pet friendly space, so bring your fur babies with you!
Prices from $159 per night 
Did we miss something?
If you've stayed at an amazing Glamping Retreat that we should know about, please let us know!!
********************************************************************************************************************
DID YOU KNOW?  Stout Tent ships internationally, and our wholesale tent clients are located in over 30 countries. We have brokerage and international logistics experience and can help make sure that you get your shipments safely, quickly, and at the best possible price.