Recreational Winter Camping Essentials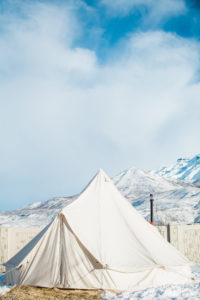 If you typically put away your camping gear once summer has ended, you're missing out. With the right gear recreational winter camping can be as easy as any other season, if maybe a little more work for the reward.
Here's a list of some comfort essentials you won't want to leave behind as you head off for your winter camping adventures. From the shelter of a durable canvas bell tent with an efficient, heat-throwing stove, to warm underwear and cozy booties, these products will make you one happy camper indeed.
 

A COMFY, INSULATING BASE LAYER

(North Face Summit Series Base Layers)

Keeping warm out in the cold begins with choosing the right base layers. The North Face Summit Series is ideal for keeping warm on the go during the winter months. Snug, mid-weight, and made of recycled polyester with Elastane for superior wicking, durability, and odor control, this is the softest crew base layer out there. North Face offers their Summit Series in styles for men, women, and youth. Not only are these base layers perfectly suited to cold weather wear, they also come with the brand's lifetime guarantee.
THE PERFECT WINTER CAMP MUG
Yeti offers the toughest, most over-engineered camp mug out there! It features a full-loop Triple Grip Handle comfortable for wider hands. Duracoat color means there will be no scratching, peeling, or fading, even if you put it in the dishwasher when you get home. The double-wall vacuum insulation keeps drinks at the right temperature until the last sip. 
COZY BOOTIES FOR CHILLED FEET
 (Western Mountaineering Standard Down Booties) 
After a long day of skiing, snowshoeing, or just playing around in the snow, the first thing to do once you get back to camp is give your feet a break from the cold in these Western Mountaineering Standard Down Booties. Lightweight by design and packing a high warmth-to-weight ratio, these booties are packed full of 850-fill down for supreme warmth and treated with a DWR finish to keep the down lofty and warm in the face of snowy campsites. Your feet deserve this comfort!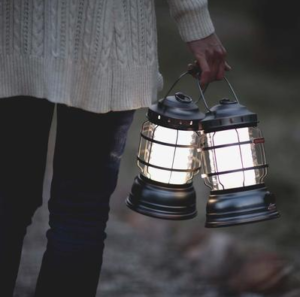 LIGHTING FOR WINTER CAMPING   
 (Barebones Living Forest Lantern) 
Light your way with the classic Barebones Forest Lantern. Rechargeable Li-Ion batteries put out 325 lumens of warm light for up to 4 hours. Keep the light setting on low and the Forest Lantern will glow for 80+ hours. The steel body comes finished in Antique Bronze, Red, or Satin Nickel and is never be hot to the touch. And, when technology calls, charge your accessories via the lantern's built-in USB.
A BLANKET FOR WINTER STARGAZING
(Rumpl NanoLoft Puffy Blanket)
Rumpl's first-ever synthetic alternative to down is a breakthrough in blanket insulation technology. Unlike traditional synthetic fills, the 100% post-consumer recycled NanoLoft® insulation is made up of tiny circular clusters of fiber that mimic the properties of down clusters. This incredible technology traps warmth inside small pockets of air to preserve heat efficiently, regardless of conditions. This soft and comfy blanket comes in one and two-person sizes, is stain and water-resistant, and machine washable. Other cool features include a water-resistant stuff sack and a cape clip for hands-free use on the one-person size blanket. Whether lounging in your tent or sitting outside to enjoy the winter stars, this is the perfect blanket to get cozy under.
SNUG SLEEPING FOR WINTER CAMPING   
 (Teton Tracker 5 Ultralight Mummy Sleeping Bag) 
Layering up is a great strategy for staying warm on the trail, and it's no different in your tent; an extra layer can make all the difference when you're trying to stay warm.
The Tracker 5 Ultralight Sleeping Bag is designed with an added layer of fill in the footbox to keep your feet warm and cozy. What's more, the hood is designed to pull in tightly around your face for added warmth. The sturdy shell and cozy liner will make it the sleeping bag of your dreams.
CHOOSING THE RIGHT TENT FOR RECREATIONAL WINTER CAMPING
(Stout Bell Tent – Overland 5000 Sunforger)
The incomparable Stout Tent Sunforger is a bell tent made of 100% pure canvas. Stout Tent ships worldwide and their tents can be legally used in any United States National Park. They even provide fire certifications for areas requiring them. These bell tents come with a soft PVC zipped in ground sheet that is flood proof and easy to clean.
The Sunforger includes a stove jack (adjustable from 3″ to 6″) and the chimney hole is covered by canvas and accessible by Velcro access, so that you can safely enjoy the cozy warmth of a heated tent! These canvas bell tents are beautiful, durable, spacious, and perfect for recreational winter camping use!
Please note – the Stout Tent Overland Sunforger is our first recommendation for recreational winter campers but not for traditional winter campers (those who are skiing or snowshoeing to your campsite with your gear on a pulk sled). If you are a traditional winter camper, we'd suggest the Pro Series without the groundsheet. Get in touch with us at info@stouttent.com for more information!
HEATING YOUR BELL TENT
 (The Winnerwell Woodlander Large Wood Burning Tent Stove)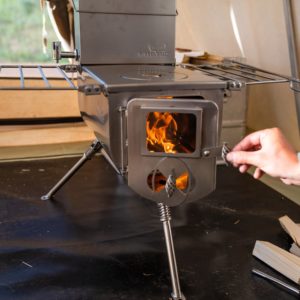 The Winnerwell Woodlander is ideal for heating and cooking in compatible bell tents like the Overland Sunforger. Highly portable and crafted entirely from stainless steel designed to never rust or corrode, the Winnerwell Woodlander is a reliable heating and cooking tool in the toughest environments. The External Air draw allows the stove to perform independently from the air inside the tent. This unique feature eliminates cold drafts and prevents the stove from using the hot air it has created, making it easier to heat your tent.
Especially thoughtful features include a glass window for fire management and ambiance, level side shelves that double as a carry handle for cooking versatility, and a wide, tri-pod design to help keep the stove stable on uneven surfaces. 
PORTABLE BEDS TO BRING CAMPING
(Disc-O-Bed XL With Organizers)
Short on space but not on comfort, the modular Disc-O-Bed L equips your base camp in style. Specifically designed with the outdoor enthusiast in mind, it's the perfect choice for accommodating more sleepers without crowding the tent. The beds require no tools to assemble, can be fully disassembled and stored in the supplied carry bag, come with organizers for easy access to your gear, and boast an impressive weight tolerance of 500 pounds! Two cots can be used separately, bunked together to save space, or converted into a sitting bench for daytime use.
And there you have it; a handy reference guide to a few of the products you definitely don't want to leave home without when you head off for your wintertime adventure. If you want to enjoy the unique beauty and fun of recreational winter camping while still treating yourself to some comfort, make room on your packing list for these essentials.