Purchasing a canvas tent is an investment and if you choose the right one, it can last a lifetime, which is why canvas tents are often dubbed "The Heirloom Tent".  So, where do you begin when deciding which canvas tent to buy? Typically, the very first thing people decide is the shape of their tent, either a wall tent (aka Safari tent) or the bell tent (sometimes referred to as a teepee or yurt, though technically these are different structures). This is usually an aesthetic decision, which is fine, you want to like the way your tent looks, but there's more to owning a canvas tent than the shape of it which is why we've put together the top 3 questions to ask yourself when you're deciding which canvas tent to buy.
QUESTION 1: What will you be using the tent for?
Is this a recreational camping tent? Will you be using it for long term use like for a Glamping Airbnb or long term living? Do you want a hunting tent?
While both these tents have a considerable amount of headroom,  the 5M bell tents have 10 foot center pole and the Safari tents are 8ft ft high, so even your tallest camping buddies will be able to stand up with ease in either tent. The square footage in each tent varies significantly though and will affect how many people you can sleep in a tent.
If you're looking for a family tent, with space to sleep more than 2 people and store some gear, the 4M or 5M Bell Tent will be much more comfortable. The 5M Bell Tent is 16ft in diameter and provides over 200 sq ft of space inside! This tent will comfortably fit any of the following sleeping configurations – two queen beds, one queen and two twins, four twin beds, and up to 6 cots.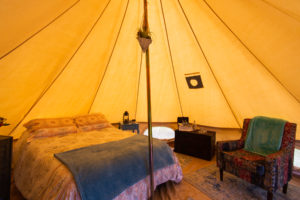 The safari tent is smaller (10′ x 12′) and can fit one queen bed, up three twin beds (2 is more comfortable), or three cots.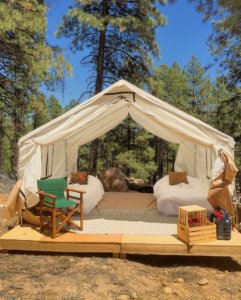 Both tents can be used for glamping and we've seen plenty of creative uses with both. Here are some of the most common ways to use the Safari Tent – VIP cabanas, expo booths, kitchens, massage suites, restrooms and hookah lounges, the safari tents can offer both open airiness, or privacy.
QUESTION 2: Where will you use the tent? 
The second consideration when purchasing your canvas tent is where the tent will be set up most frequently. We want to establish what typical weather conditions you can expect and what kind of ground.
Last year while facilitating The Wild Gypsy Tour for Sturgis Motorcycle Rally in South Dakota, we used both safari and bell tents. Our canvas tents were put to the test when a storm with over 50MPH winds rolled through camp. Compared to most other tents in neighboring camps, both Stout Tents, the Safari Tent and Bell Tents, performed very well. However, the bell tent was clearly superior in the high winds. Even though the safari tent didn't blow away, several of the poles bent and needed to be replaced before it was usable again.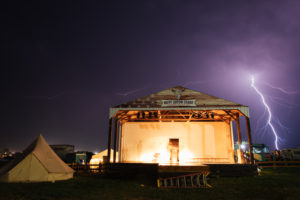 The Stout Bell Tents stood strong through the storm with impressive grit. Due to the conical design, the bell tents performance in windy settings is unmatched. We've seen these storms stand strong in Arizona monsoons, Colorado thunderstorms, and Hawaiian winter downpour. Don't just take our word for it though, here is a video review from a customer who unexpectedly got to try out our Sunforger model in a massive storm!
The second part of this question is the ground. We're talking about the actual spot you plan on erecting the tent. Will you be putting your tent in a field with soft ground, or a parking lot with asphalt? Hard compacted desert, or loose sand in the dunes or beach? Outside camping or an inside trade show? This is an important question to ask yourself based on what each tent requires for set up.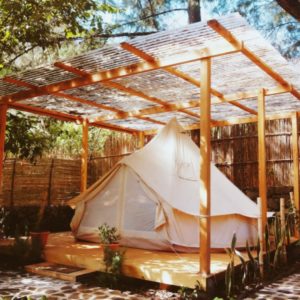 While the traditional setup for a bell tent is with rebar stakes, we have seen clever customers find ways around these guidelines, with substitutions like custom decks, tent stands, or sand bags. Below is the traditional setup guidelines for each tent.
The bell tent has 12 ground stakes, and 12 guylines that require stakes as well. For a bell tent to perform as intended it requires 24 stakes to anchor it in to the ground. This is important to consider if planning on setting your tent up on an asphalt surface like a parking lot, rocky ground, or even soft sand. As we mentioned, there are options for a stakeless setup, inquire about it here.
A safari tent can stand alone therefore it has more flexibility on the location you choose to set it up. Although we recommend anchoring your safari tent in case of windy conditions, it is not required in order to set up. The safari tent stands independently on four legs and is very heavy. Because of this, safari tents have no restrictions on where they can be placed and are a popular choice to use inside a building, on a pool deck, tennis court, parking lot or any other surface that would not allow you to use stakes in the ground.

QUESTION 3: How do you plan to travel with the tent?
The final question to consider when deciding between a Bell tent and a Safari tent is how do you plan on traveling with your tent and how often? One of the most convenient details of the bell tent is that regardless of its large size when up, it packs down into a compact duffle bag which will fit in any trunk. All the necessary poles and stakes fit neatly inside. The bell tent bag can be manipulated into smaller spaces when packing for a big camping and although heavy, can be carried rather easily especially with 2 people. You can also break the tent down into 2 bags if you want lighter carrying.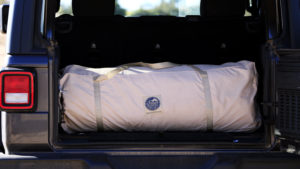 The Safari Tent has several more parts, and poles, that are larger and a tad more awkward. Like the bell tent, the safari tent is also wrapped up very nicely into a large duffle bag, however the poles for the safari tent could pose a problem for those who don't plan ahead. The safari tent includes 18 long steel poles that vary up to 6.5 feet in length, and that currently do not fold down or snap apart.  These long poles could create a problem if packing space is limited, if you have compact transportation, or you plan on moving the tent around frequently.
Finally, when considering what tent to buy, consider if the tent will be in one place for a while, or if you will be relocating the tent often. Once set up, the bell tent is more difficult to move. In order to move a bell tent, even just a couple feet all 24 stakes would need to removed, poles taken out, the tent moved, then all 24 stakes and poles replaced. The safari tent moves with greater ease. Once the Safari is set up two people are able to each grab a side and walk to its new desired location within a couple seconds, no staking, or disassembly is required. It is important to note however, that while it can be tedious to restake, it really doesn't take that long. A bell tent can be set up start to finish in about 20 minutes, whereas the safari tent takes closer to an hour to setup.

WHICH TENT WILL YOU CHOOSE?
Whether you are hosting a camping getaway with friends, setting up a booth at an expo, or starting your new glamping side hustle, you know you'll get the best quality with Stout Tent, you just have to decide which style works for your needs.