Treating Your Canvas Tent Properly
Not all canvas tents are created, or treated, equally. Treating a canvas tent correctly is complicated, but skipping parts of the process can lead to leaking and mold growth as well as other damage. Improperly treated canvas is certain to be a source of frustration and a drain of financial resources.
At Stout Tent we believe in protecting your investment, and we do it right the first time. We make sure our canvas tents are water repellant, mold proofed, treated for UV exposure, and provided with a fire retardant. Get some more information about each of these important steps below.
Water Repellent
Water should bead up and run right off your tent, not soak into the material; there should be no noticeable change in the color of the fabric. Your new canvas tent should not need to be "seasoned" as other companies may tell you.
Our process for checking this includes the "bucket test." We make sure that the canvas can hold water for 8 days (or until it evaporates) without soaking in, and without landing in the bucket.

Mold Proofing
This one is tricky because it's the most expensive part of canvas tent treatment and, in our opinion, the easiest to neglect.
If the canvas isn't waterproofed, it's quick and easy to spot. If it isn't mold-proofed, it can be difficult to test. The only way to really confirm mold proofing is to get a lab certificate from a 3rd party independent lab. This is what we do! We ask an independent lab to analyze our canvas for the top 500 mold strains found in North America. Technically, it is still possible you could have mold growth from a one-off strain, but highly unlikely.
UV Treatment
UV treatment is the most important part of treating the canvas!
If the tent isn't treated for UV exposure it will disintegrate. However, simply treating the canvas is not enough. The thread must also be treated. We've seen other tents in good shape that seem to shed when they're set up in the sun for an extended amount of time. To avoid this we buy high-quality waterproof and UV-proof thread for all of our work. Stout Tent was started in Arizona, and most of our work has been in the Southwest, so we have a lot of experience protecting against UV exposure!
Even with all our precautions, for long-term setups, we recommend a sunshade in high UV environments. We also have a maintenance rule of thumb: if the nylon ropes are starting to show wear and fraying from the sun, it's time to re-proof your tent.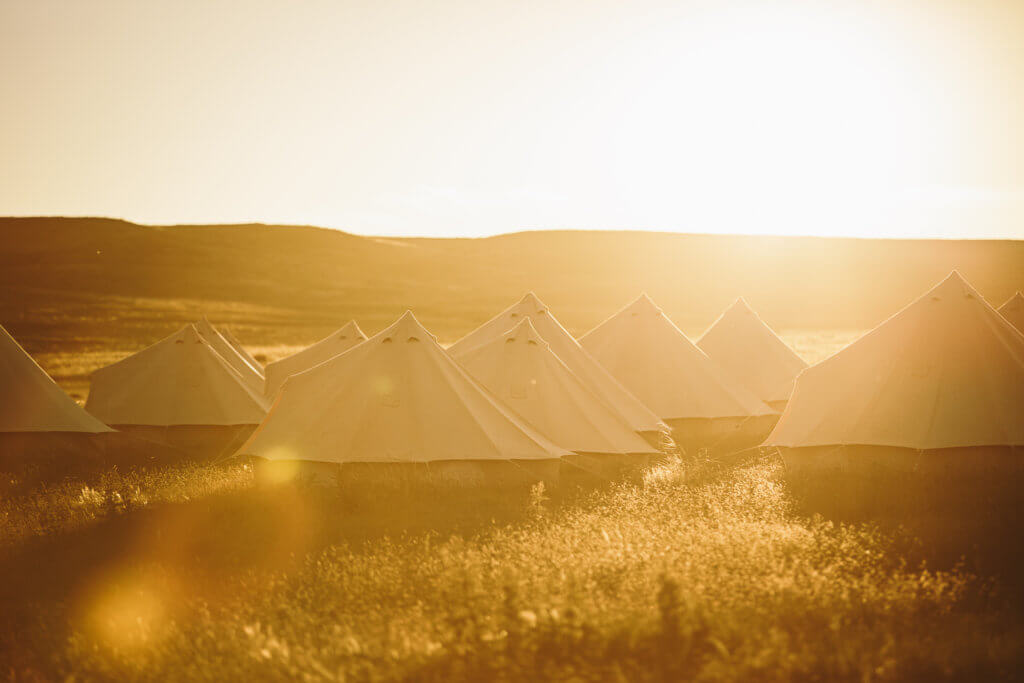 Optional Fire Retardant
This is something we treat our PRO and Overland models for, but not our Ultimate models. We've designed it this way because when you apply FR (Fire Retardant) to thin canvas (8.6 oz. – 10 oz.), it can weaken the waterproofing and so doing it right gets really expensive. There's also a growing number of customers who prefer to avoid the chemicals in FR, so it's important to us to provide a bell tent line that isn't treated.
National Parks, and some Burning Man-related events in the Pacific Northwest, do not allow canvas tents that fail to meet CPAI-84, a testing method used specifically for confirming the flame resistance of fabric for recreational tents. Suppliers of the tent materials that meet these standards are awarded an official laboratory-approved certificate that can be shared with their customers. If you need a fire certificate, just shoot us an email and we'll get one right over to you.
More to Consider About Canvas Tents
Skipping the Chemicals
While we can offer untreated and organic canvas tents, we do not recommend this purchase. Click here for more information.
We have had a few chemically sensitive customers share their concerns with us who ended up being fully satisfied with their properly treated bell tent. If you would like to discuss this option further, reach out and let us know!
Polyurethane (PU) Coated Material and Fake Canvas
PU tents are cheap and dangerous! They are coated with PU is because they are not real canvas. We have seen other bell tent suppliers end up with orange-colored fire retardant running off their tents when they get wet, and moldy tents that can't be cleaned because the PU creates something like a clear plastic laminate on the inside.
You can check to see if your tent is made of real canvas by holding it to your mouth and blowing through it. If you can't blow through the material, it is NOT made from real canvas. So that you can test the quality of Stout Tent canvas tents for yourself, we offer canvas swatches and samples.
For more information, we're just a phone call or email away!
602.845.0609
info@stouttent.com